Contexte:
Nouveau projet, je reçois une passerelle Audiocodes 800 SBA pour un des sites distants il y a deux semaines, la version de SBA envoyé est en Lync 2010.
Ok, je tente la procédure de mise à jour, la passerelle n'est pas capable de reconnaitre la clé USB.
Retour au support Audiocodes qui valide un problème de Bios, je reçois la nouvelle passerelle aujourd'hui, toutes les passerelles sont envoyées en SBA 2010, l'upgrade est nécessaire.

Procédure de mise à jour:
La procédure pour les 800 n'est pas le même que pour les modèles 1000 qui fut déjà l'objet d'un post ici:
http://microsofttouch.fr/default/b/christophe/archive/2013/12/30/microsoft-lync-server-2013-upgrade-audiocodes-mediant-1000-sba-2.aspx
Les étapes: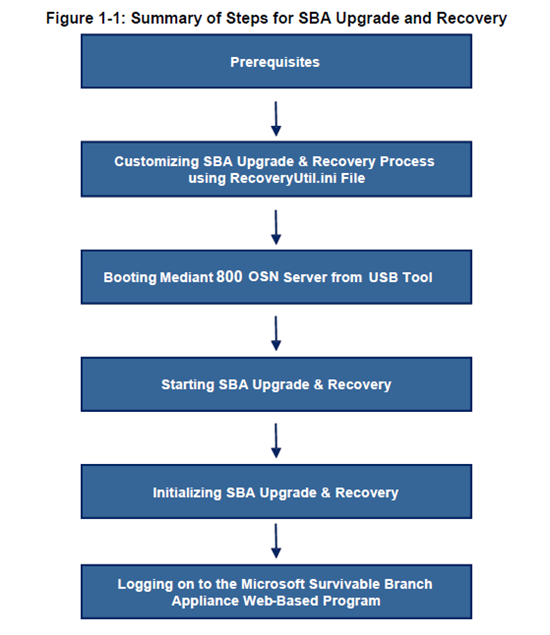 - Valider que vous avez la clé usb pour Lync Serveur 2013.
- Vous pouvez télécharger la dernière version d'image ici: http://www.audiocodes.com/upgrade-to-lync-2013
Les branchements:
La théorie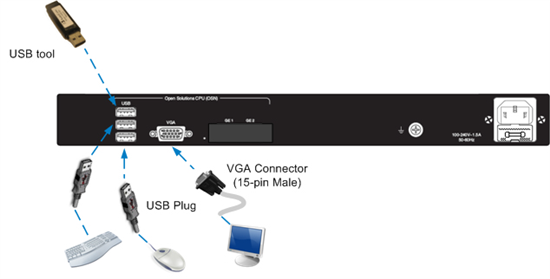 La pratique.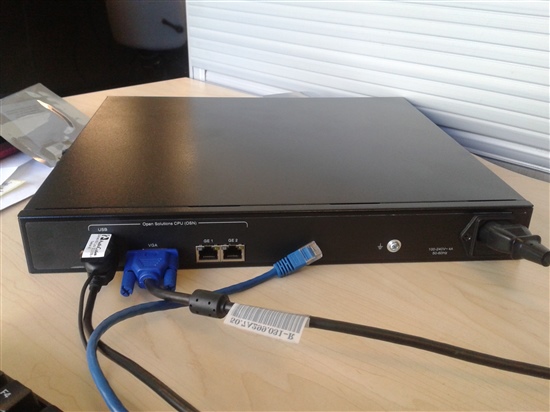 1/ Préparation du fichier RecoveryUtil.ini:
Vous trouverez ce fichier à la racine de la clé USB.
Vous pouvez préciser toute une série de paramètrse dans ce fichier, dans cette exemple, je vais modifier les deux suivants:
; Choose the program start type. 0 - automatically,when WinPE started; 1 - manualy, from dos shell command line
RecoveryStartType=0
; What shall be the operation after the execution ends: 0-nothing 1-reboot 2-shutdown
OnExit=2
Détails de ces deux paramètres:
RecoveryStartType: Defining Manual or Automatic Start
Automatic: To start the SBA upgrade and recovery automatically, set the RecoveryStartType parameter to 0, as shown below:
[Execution] RecoveryStartType= 0
When this setting is used, the SBA upgrade and recovery process runs automatically using Windows Pre-installation Environment (WinPE).
OnExit: Defining Exit Operation upon Process Completion
You can configure the SBA upgrade and recovery to perform a specific operation upon the completion of the process, using the OnExit parameter.
Shut down OSN server: Set the OnExit parameter to 2 to shut down the OSN server upon process completion:
[Execution] OnExit = 2

2/ Valider les paramètres BIOS pour booter sur la clé USB:
On constate que la clé USB n'apparait pas dans les options de Boot: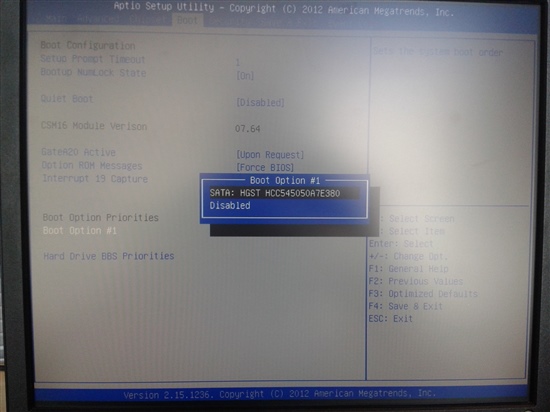 Aller dans Hard Drive BBS Priorities: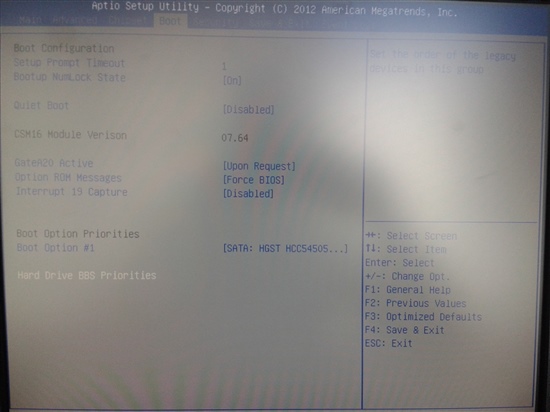 Modifier les options du paramètre Boot Option 1 et choisir USB Flash Drive: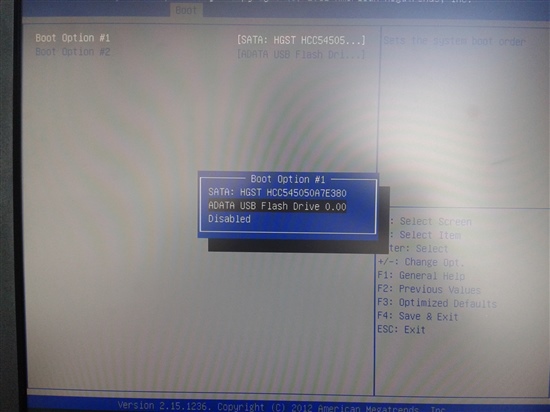 USB devrait maintenant être la principale option: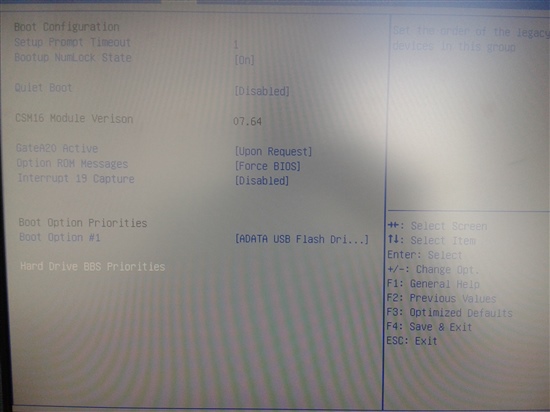 Sauver la configuration et redémarrer l'appliance qui devrait maintenant embarquer dans le processus d'upgrade.

3/ Le processus d'upgrade démarrant automatiquement, vous pouvez suivre l'évolution via votre moniteur VGA: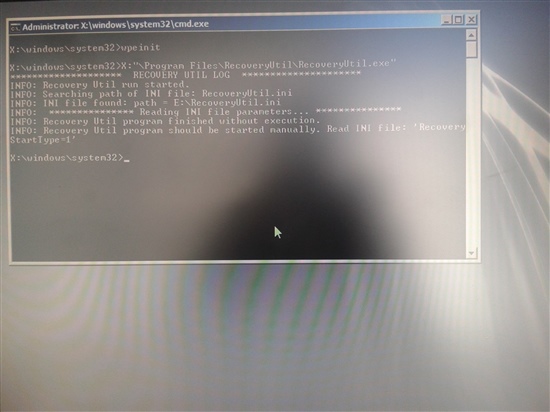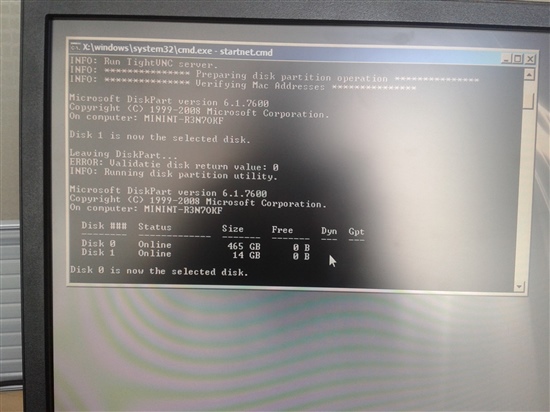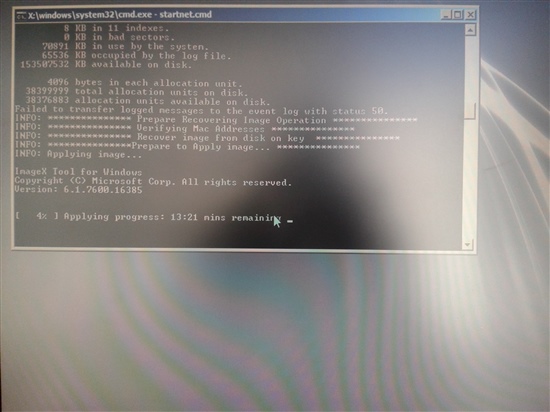 4/ Réinitialisation du système

Le serveur OSN devrait s'être éteint automatiquement.
Enlever la clé USB.
Mise hors tension, puis sous tension du Mediant 800.
Laissez le système se réinitialiser.
Lorsque l'opération aura pris fin, connectez vous sur le serveur et attribuer une adresse IP.
Vous pouvez maintenant vous connectez sur l'interface SBA pour valider la version: