Microsoft a publié la version 2.4 de l'interface SDN pour Skype for Busness 2015.
Description:
The Skype for Business, SDN (Software-Defined Networking) Interface allows developers to build applications and services that can monitor, isolate and correct issues on the network that affect Skype for Business quality of experience. The installer application also provides customers with the ability to interface with qualified 3rd party applications built on the Skype for Business, SDN API.
Skype for Business Server and Lync Server provide customers with an unmatched unified communications and collaboration experience. Since both Skype for Business and Lync rely on the underlying network, sometimes the quality of experience can be affected by underperforming or improperly configured network elements. Applications built on the Skype for Business, SDN Interface provide the ability to quickly detect quality-affecting issues on the network, and deliver prescriptive resolutions and traffic prioritization.
Téléchargement: https://www.microsoft.com/en-us/download/details.aspx?id=51195

La liste des solutions SDN certifiée pour Skype for Business est la suivante: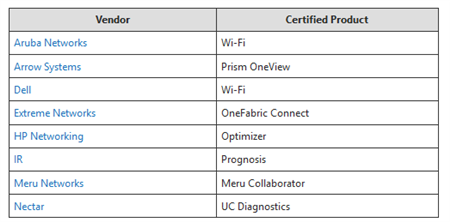 Nouveautés:
Powershell interface for provisioning: Windows Start Menu contains a Powershell shell that allows execution of provisioning commands similar to the command line provisioning interface. In addition, a SubscriberStatus and Status API has been added to allow querying some basic statistics for the state of the overall SDN interface and the state of the connection to each subscriber. See Powershell Provisioning for details.

Per Subscriber PII Obfuscation: You can now set an obfuscation seed for each subscriber ensuring that the seed provided contains unique identifiers representing your SIP aliases and telephone numbers. See Per Subscriber Obfuscation for details.

Schema Preview:

Some new requested fields have been added to Schema D. This might break backward compatibility with some receivers and therefore requires a specific activation using a hidden schemapreview setting. These fields will be included in the next major schema revision.

We have added QualityUpdate and IncallQuality messages containing Subnet, TenantId (online only) and, if traceroute is active in Skype for Business, an attribute will give the round-trip time (RTT) for every hop. The latest provided schema definition (SDNInterface.Schema.D.xsd) allows for these new fields optionally.

This is NOT a supported feature but a preview for a schema change targeted in our next 3.0 release. See Schema Preview for details

Auditing: EventLog will receive entries for changes to any SDN Manager or Dialog Listener settings as a result of provisioning activities. Eventlogs will also contain warnings 90 days before a (client) certificate being used is due to expire.

0 values: In previous releases, fields containing 0 were ignored, but this release now provides fields containing 0 if 0 is a valid value and if provided by the clients. This allows better differentiation on whether a field was provided at all or not.

Activation of InCallQoE: Installing DialogListener on Skype for Business 2016 Server will automatically activate sending InCallQoE reports from all W16 clients. For testing and development, you can also activate InCallQoE in W16 clients if the server is an older version by adding the control files (see Configuring InCallQoE Messages). For details about various threshold levels of InCallQoE see InCallQoE Throttling and Thresholds.

Redis: This version consists of an upgraded Redis client. The upgraded client has been tested with Azure Redis as well as Windows Redis 3.0.500.

Redis is case sensitive. Subscriber and listener Identifiers and settings names in SDN 2.4 are made case insensitive. Newly created subscriber and listener IDs are stored in upper case. However, prior to the upgrade the data store may contain identifiers in either lower or upper case. It is recommended that listener and subscriber settings be removed and re-added after the upgrade. This is not required if the database is dropped prior to moving to the new version.
Lien: https://msdn.microsoft.com/en-us/library/office/dn785195%28v=office.16%29.aspx#sectionSection0