Il est possible depuis la version logicielle 5.5.2 Polycom Trio de projeter sur un écran sans fil avec Miracast depuis des périphériques Android ou Windows 10.
En date de la publication, les prérequis pour le support des clients sont les suivants:
Windows 10 devices with Wireless Display support (Tested Windows Surface Pro 3 and 4, HP EliteBook 840 G3)
Samsung Galaxy smartphones and tablets running Android 4.4 and newer (Samsung uses following names for this feature: Smart View, AllShare Cast, Screen Mirror or Miracast)
Mon poste de travail n'est pas un HP EliteBook 840 G3.
La fonctionnalité n'est pas activée par défaut, les paramêtres suivant doivent être activés dans vos configurations:
content.wirelessDisplay.sink.enabled="1" 
content.wirelessDisplay.sink.name="SteffenTrioWirelessDisplay"

Une fois activée, le Polycom Trio devrait afficher cela.
Settings - Advanced - Wireless Display: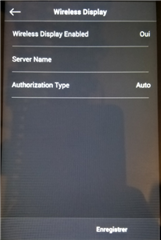 Il est maintenant possible de rechercher le trio pour effectuer votre diffusion:
https://support.microsoft.com/fr-ca/help/15053/windows-8-project-wireless-screen-miracast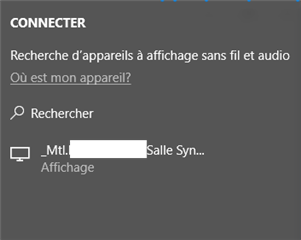 La connexion est visible sur l'équipement.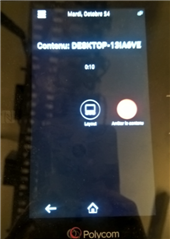 Vous pouvez ensuite choisir votre layout ou stopper le partage de contenu directement depuis le polycom Trio: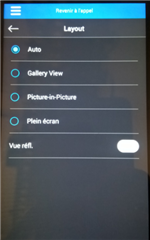 Il est possible de personnaliser le nom affiché dans la recherche de pairing.
Le Polycom Trio affiche le nom configuré dans le système suivant cette ordre:
content.airplayServer.name - AirPlay
content.wirelessDisplay.name - Wireless Display
system.name
displayname (on the Skype for Business server)