Audiocodes vient de rendre disponible une mise a niveau firmwares pour téléphones sur IP HD400 en version 3.0.4.1264
Les numéros de versions sont:
Version 3.0.4 includes firmware build 3.0.4.1264 for the 405HD, 430HD, 440HD and 450HD phone models, and the Huddle Room Solution (HRS).
Accès aux firmwares: https://www.audiocodes.com/library/firmware
Accès a la releases notes: https://www.audiocodes.com/library/technical-documents
Les nouvelles fonctionnalités sont:
Modules d'expansions pour HD450:
This version introduces a new sidecar option for the 450HD phone. With the sidecar, users can enjoy many more speed dials + BLFs. The 450HD can be ordered with or without the sidecar. Main features include:
• Full touch
• High-resolution color screen
• Up to 22 configurable speed dials / BLFs (on top of the eight supported in the phone screen)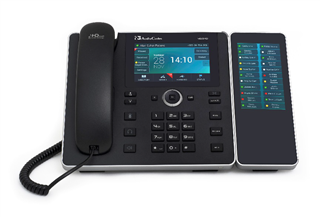 Nouvelles fonctionnalités de numérotation vocale depuis le téléphone vers n'importe quel utilisateur du répertoire d'entreprise:
AudioCodes' 400HD Series of IP Phones is now directly integrated with AudioCodes' Voca services to allow voice dialing to any other user in same corporate directory. To enable the service, the user must add a VocaNOM key, and IT must configure the VocaNOM IP address service on the phone. The caller hears a voice prompt requesting the callee's first and last name. When the service identifies the callee, the phone dials the callee's number just as it does in a regular call. Later, the user can press the REDIAL hard key on the phone and view the call logged in the phone's 'Dialed Calls' just like with any other call. The service is currently available in English and German only.