Cela fais quelques temps qu'un client nous remonté un problème étrange:
Dans le cas ou un utilisateur étant aussi enregistré avec un Polycom VVX active la sonnerie simultanée dans son client Lync, lors d'un appel entrant interne ayant été émis avec un Polycom VVX, si la personne répond avec son client Lync, l'appel passe dans un état zombie.
Sans réponse, le problème fini donc sur ma table.
Apres quelques tests et analyses de traces, l'élément suivant est systématique:
Lors du second invite venant du VVX appelant, l'attribut crypto a disparu: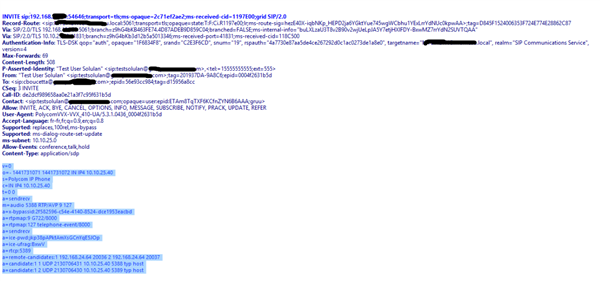 Plus besoin d'aller cherche plus loin qu'un bug.
Après une première réponse du support du type: "Nous avons testé ce scenario dans notre lab, cela fonctionne", suite a des courriels assez insistants pour qu'il regarde vraiment les logs, le résultat tombe, reconnaissance du bug et nous demande de passer en 5.4:
VOIP-98161 - A problem was resolved that occurred with calls from VVX3XX and VVX4XX phones to a Lync user who has Simultaneous Ring set to a PSTN number.