Polycom a rendu disponible pour le mois de Juin 2019 une nouvelle révision pour le software Polycom UC en version 5.9.3.2489
Le logiciel Polycom Unified Communications (UC) 5.9.3 est une version destinée aux déploiements Open SIP et Skype Entreprise
La révision pour Skype Entreprise s'applique aux téléphones et environnements suivants: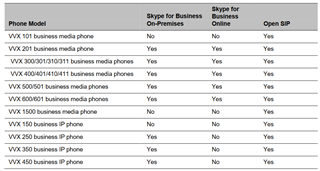 Il est important de prendre en considération que les modèles de téléphone suivants ne recevront plus de nouvelles fonctionnalités:
● VVX 300/310
● VVX 400/410
● VVX 500
● VVX 600
● VVX 1500
Ces modèles de téléphones sont "end of sale", 5.9.0 sera la dernière version à contenir des fonctionnalités significatives pour ces modèles. Les prochaines versions majeures n'incluront pas d'images prenant en charge ces modèles.
Les modèles de téléphones VVX suivants continueront à recevoir les nouvelles fonctionnalités:
● VVX 101/201
● VVX 150
● VVX 250
● VVX 301/311
● VVX 350
● VVX 401/411
● VVX 450
● VVX 501
● VVX 601
Nouvelles fonctionnalités:
DHCP IP Address Cache
Polycom UC Software supports the Dynamic Host Configuration Protocol (DHCP) IP address cache to retain IP addresses on VVX phones. When you enable the IP address caching feature, there aren't any service interruptions even if the IP address lease time expires and the DHCP server doesn't respond.

TLS Support for BToE
Polycom BToE application supports the Transport Layer Security (TLS) protocol to authenticate VVX phones with the following features:
●Polycom UC Software uses TLS protocol v1.2 to authenticate VVX phones using BToE application v4.0.0.
●The TLS protocol takes precedence over the SSH protocol.
●If TLS connection fails between the VVX phone and the Polycom BToE Connector application, then the connection falls back to SSH.

Polycom Cloud Connector
Polycom UC Software introduces the Polycom Cloud Connector to send device analytics to Polycom Cloud Services. You must enable the device.da.enabledparameter to send device analytics to Polycom Cloud Services.

Enhancement to Wi-Fi Settings
Polycom VVX phones now display Wi-Fi settings only when you connect a Wi-Fi dongle. Wi-Fi dongle doesn't support on Expansion modules USB port.
Page globale:http://support.polycom.com/content/support/apac/china/en/support/voice/polycom-uc/polycom-uc-software-release.html
Guide administrateur: https://documents.polycom.com/bundle/ucs-ag-5-9-0/page/c-ucs-ag-product-overview.html
Télécharger fichier cab :Polycom CAB files for UC Software 5.9.3.2489 for VVX Business Media Phones, Business IP and SoundStructure
5.9.3 Combined:Polycom UC Software 5.9.3.2489 for VVX Business Media Phones, Business IP Phones and SoundStructure VOIP Interface [Combined]
5.9.3 Split: Polycom UC Software 5.9.3.2489 for VVX Business Media Phones, Business IP Phones and SoundStructure VOIP Interface [Split]
Polycom Btoe 4.0.0: Polycom Better Together over Ethernet Connector (BToE) Application 4.0.0.0
Release notes 5.9.3: https://support.polycom.com/content/dam/polycom-support/products/voice/business-media-phones/release-notes/en/uc-software-release-notes-5-9-3.pdf