Dans le cadre d'un session de troubleshooting, vous pouvez être amené a devoir analyser des traces réseaux de votre passerelle Sonus SBC.
Deux options:
Faire une trace en temps réel;
Utiliser une stratégie de port mirroring si vous avez une interface disponible pour cela afin que le

trafic réseau sur un port soit copié passivement sur un autre port.
La procédure de collecte réseau n'est pas identique si vous utilisez un sonus SBC 1000 ou 2000:
Une capture avec un Sonus SBC 2000 est conservé dans la flash interne;

Une capture avec un sonus SBC 1000 require un device usb externe ou le module ASM;
Limitations a prendre en considération:
Size Limitations
- An individual Packet Capture file is limited to 350 MB in size. After the 350 MB limit has been reached, a new file will be created to continue the packet capture.
- A Packet Capture session size limit is dependent on whether or not:
30GB is less than the available storage space minus ( - ) 30% or Available storage space minus ( - ) 30% is less than 30GB

Protocol Filters Restrictions
If Protocol Filters Active Directory, HTTP/HTTPS, or All Other Protocols are set to True, the following options will be hidden and no longer configurable:
- Media
- DSP/CSME
- TCP/UDP Ports

TCP/UPD Ports Restrictions
If any TCP/UDP Ports are entered, the following options will be hidden and no longer configurable:
- Active Directory
- HTTP/HTTPS
- All Other Protocols
Étapes pour effectuer une capture réseau (dans notre exemple, c'est un Sonus SBC 2000).
1/ Naviguer vers l'onglet Diagnostics puis Tools > Packet Capture

2/ Cliquer sur Start Capture

3/ Définir les critères de la capture
Par défaut, les paramètres suivants sont définis: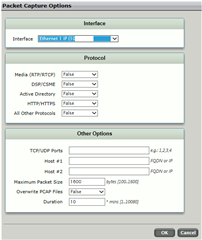 Définir l'interface collectée;

Définir les protocoles (voir limitations);

Définir les filtres, important pour limite la quantité de donnée collecté pendant la trace. Dans cette exemple, je capture seulement le SIP/TLS entre la passerelle et deux serveurs SFB FE. Vous pouvez aussi précisez la direction.
Définir le temps et taille maximum de la collecte;
4/ Fin de la capture
Après le temps alloué ou la trace stoppée manuellement, vous pouvez simplement télécharger le pcap.