BOC Call Recorder est un outil d'enregistrement des appels gratuit accessible ici: https://gallery.technet.microsoft.com/office/BOC-Call-Recorder-for-497c4535
L'outil propose des fonctionnalités tel que:
MP3 Encoding - Get the maximum storage space and playback compatibility
Device Selection - Mix audio from any 2 Windows devices
Auto Call Recording - Conversations are recorded without user intervention
Auto Updates - Always run the latest version
Folder Selection - Local drive, shared storage, or the cloud
Space Monitor - Auto stop when storage gets low
Manual Record - Option to manually record any 2 devices used by another app
Compatibility - On prem or cloud hosted Skype for Business and Lync 2013
Unique File Names - Record multiple users to folder with no overlap, easy search
Minimize to System Tray - Hide program from view, free up taskbar space
Settings override with Group Policy
Almost no CPU impact (see graphic below)
Speech to Text - Powered by Azure
Dans un contexte d'un nombre peu important d'agents nécéssitant cette fonctionnalité et pour s'affranchir du déploiement d'une solution payante, cette outil peut s'avérer très précieux.
Installation:
L'installation se déroule en 3 étapes et ne prend que quelques minutes.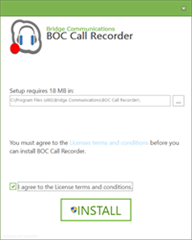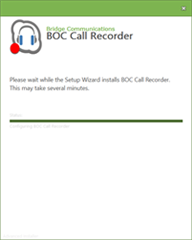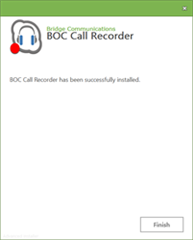 BOC Call Recorder est installé et prêt à être configuré.
L'outil se lance via le raccourci installé sur le bureau.

Le bandeau suivant est maintenant visible. Par défaut, le bandeau ci-dessous permet d'activer / désactiver l'enregistrement pendant un appel, de consulter les fichiers audio enregistrés, de rechercher dans le « Speech to Text » (si la licence est activée) ou d'accéder aux paramètres de configuration.

Il est également possible de le faire via un clic droit dans l'icône de la barre des tâches et en cliquant sur « Start Manual Recording ».
Lorsqu'un appel Skype est lancé, le pop-up ci-dessous s'affiche en bas à droite de l'écran.

Une fois l'appel raccroché, le pop-up ci-dessous s'affiche en bas à droite de l'écran.

Configuration:
Plusieurs personnalisations sont possibles.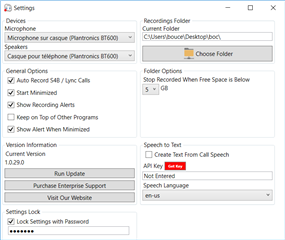 Auto Record S4B / Lync Calls: Permet l'auto enregistrement des appels
Emplacement des enregistrements: Vous pouvez sauvegarder les enregistrements dans des emplacements comme OneDrive, Dropbox, Google Drive ou Azure par exemple
Les appels sont visibles contenant l'uri de l'utilisateur ainsi que le numéro appelé/appelant, l'heure et la date

Settings Lock: Permet de restreindre l'accès aux paramètres, c'est une demande récurrente pour éviter la désactivation de l'enregistrement par un utilisateur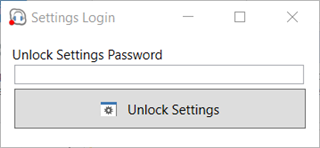 Ces paramètres sont configurables via clés de registres pour automatiser les déploiements.
Emplacement:
Computer\HKEY_CURRENT_USER\Software\Bridge Communications\BOC Call Recorder\