1/ Activation de la gestion de la musique d'attention
Naviguer dans Setup menu > Signaling & Media tab > Gateway folder > DTMF & Supplementary > Supplementary Services Settings

ENABLE HOLD: Enables interworking of the Hold/Retrieve supplementary service from PRI to SIP
For digital interfaces: To support interworking of the Hold/Retrieve supplementary service from SIP to ISDN (for QSIG and Euro ISDN), set the parameter EnableHold2ISDN to 1 [ENABLE]
Enable Hold to ISDN: Enables SIP-to-ISDN interworking of the Hold/Retrieve supplementary service.
If the parameter is disabled, the device plays a Held tone to the Tel side when a SIP request with 0.0.0.0 or "inactive" in SDP is received. An appropriate CPT file with the Held tone should be used.
2/ Création d'un fichier Prerecorded Tone
Prerecorded Tone (PRT) est un fichier .dat contenant un ensemble de tonalités préenregistrées pouvant être lues par le périphérique et utilisé par exemple pour jouer de la musique (MoH) à une personne appelée qui a été mise en attente. Jusqu'à 40 tonalités (totalisant environ 10 minutes) peuvent être stockées dans un seul fichier PRT sur la mémoire flash de l'appareil. La lecture de tonalités à partir d'un fichier PRT est prise en charge pour les appels Gateway et SBC.

Si le codec de la tonalité est le même que celui utilisé dans l'appel en cours, aucun DSP n'est requis lorsque le MoH est en fonction, dans le scénario ou les codecs différes, l'utilisation de DSP est requis.
Les tonalités préenregistrées peuvent être créées en utilisant des utilitaires d'enregistrement tiers standard, tels que Adobe Audition ou WavePad Sound Editor, puis combinés en un seul fichier (fichier PRT) à l'aide de l'utilitaire AudioCodes DConvert.
WavePad Sound Editor est téléchargeable ici:
http://www.nch.com.au/components/wpsetup.exe
Importer votre fichier audio original dans l'application WavePad Sound Editor
Sauvegarder le fichier sous un format Raw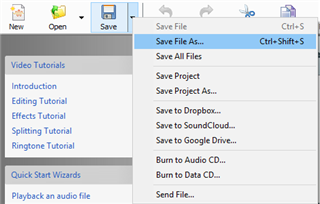 puis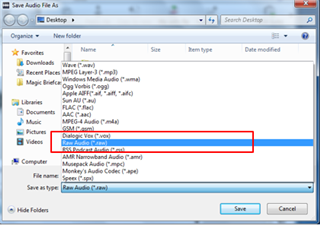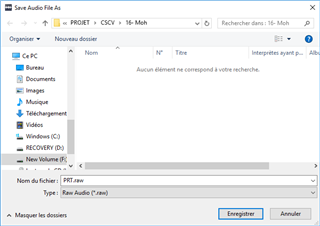 Le fichier au format raw doit répondre aux exigences suivantes:
Le fichier doit répondre aux exigences suivantes:
- Coders: G.711 A-law or G.711 μ-law (and other coders)
- Rate: 8 kHz
- Resolution: 8-bit
- Channels: mono

Lancer l'application Audiocodes TrunkPack Downloadable Conversion Utility (DCONVERT).
Choisir Process Prerecorded Tone File(s).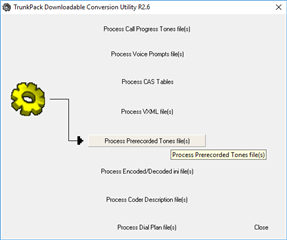 Ajouter le fichier au format Raw précédemment créé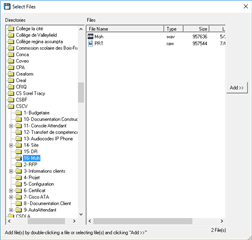 Pour chaque fichier au format Raw importé, définir le type de tonalité, le codec, la durée par défaut.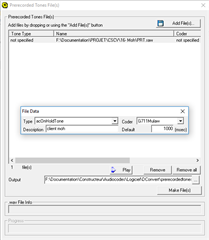 Choisir l'option "Make File" pour convertir le fichier en .dat
3/ Importation du fichier PRT sur la passerelle Audiocodes Mediant par l'interface web
Naviguer vers Setup menu > Administration tab > Maintenance folder > Auxiliary Files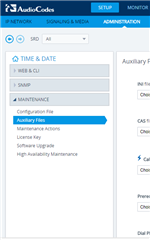 Importer le fichier:

Vous devriez observer la confirmation suivante: