Skype for Business vous permet d'envoyer des statistiques de mesures de qualités au serveur de monitoring pendant un appel cours.
Ce blog présente les étapes d'activations dans un environnement avec des téléphones Audiocodes HD400.
1/ Activation de la fonctionnalité dans Skype for Business.
Les paramètres cibles pour l'activation sont les suivants: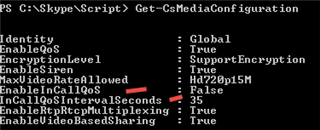 La fonctionnalité est désactivée par défaut.
EnableIncallQoS: attribute enables/disables the ability for Skype for Business clients to send raw data needed to generate IncallQuality messages.
InCallQoSIntervalSeconds: attribute is used to set the smallest period in which clients will send such raw data, allowing you to throttle messaging so you don't overburden the network when the stream quality is already impacted. The default value is 35.
Activation:
Set-CsMediaConfiguration -EnableInCallQoS $true -InCallQoSIntervalSeconds 60
Vérification: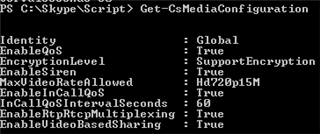 2/ Activation de la fonctionnalité pour les téléphones.
Deux possibilités, via l'interface web ou dans le fichier ini.
Activation dans l'interface web:
Naviguer dans Configuration > Voice over IP > Media Streaming).
Mettre le paramètre RTCP-XR Voice Quality Statistics Mode a la valeur "Remote and Events"

Activation dans le fichier ini:
Paramètre: [voip/rtcp_xr/vq_statistics/mode]
Valeur:
[0] Disable
[1] Enable (default)
3/ Vérification des rapports
Avant activation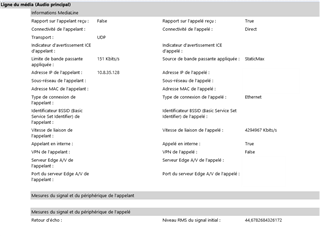 Aprés activation