Le Polycom Studio USB offre plusieurs variantes configurations concernant la gestion des mouvements de la caméra pour le cadrage et le suivi de l'orateur depuis la disponibilité du micrologiciel 1.2.0.
Ces paramètres peuvent être déterminés via des serveurs de provisioning ou avec Polycom Companion application.
Polycom Companion application permet les personnalisations suivantes
Audio and video configurations
Camera control
Wi-Fi and Bluetooth configurations
Provisioning configuration
Software upgrade & reset
Downloading logs
Audio test
Lien de téléchargement:
https://support.polycom.com/content/support/north-america/usa/en/support/video/companion/companion.html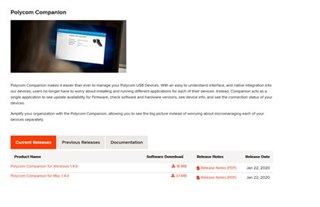 Le Polycom Companion application détecte automatiquement le Poly Studio connecté a votre poste de travail vous permettant de personnaliser les configurations et de mettre à niveau le micrologiciel.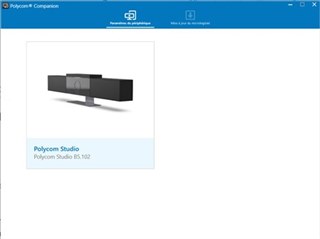 Vous pouvez accéder aux paramètres du Poly Studio USB en cliquant sur l'image de l'équipement, naviguer dans "Paramètres administrateur", le mot de passe par défaut étant Polycom12#$
Les options de contrôles sont disponible dans l'onglet "Suivi de la caméra"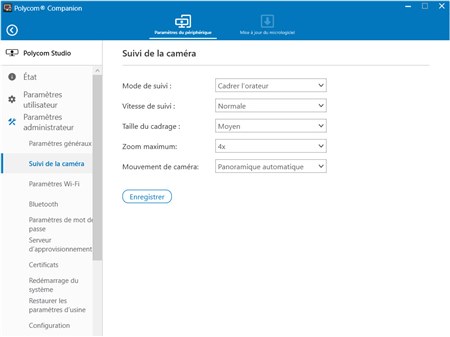 L'option "Mode de suivi" vous permet de déterminer si vous souhaitez privilégier que la caméra focus sur le groupe ou l'orateur.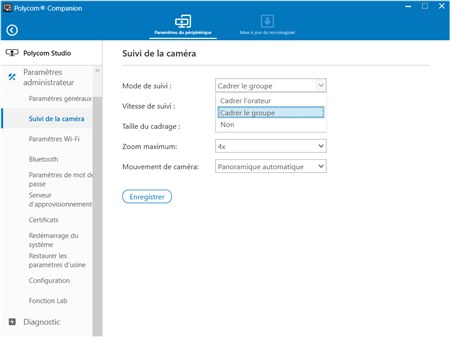 Vous pouvez ensuite choisir le mouvement de la caméra avec un des choix suivants:
● Auto Pan: The camera pans smoothly between the speakers or groups, especially when they're close together. However, the camera still cuts between the speakers or groups if needed (the camera makes the decisions on when to pan or cut).
● Cut: The video cuts between the speakers or groups, regardless of their proximity.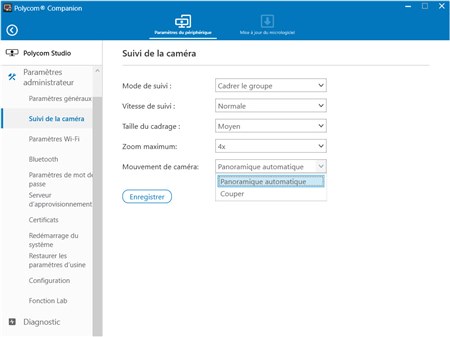 Chaque changement dans la configuration est immédiatement appliqué dans l'équipement.