Microsoft Teams est en constante évolution
Microsoft vient d'annoncer le lancement d'une nouvelle fonctionnalité très attendu: "secondary ringer"
Nouvelle fonctionnalité: Secondary ringer

Actuellement avec Microsoft Teams, lors de la réception d'un appel, la signalisation utilise le casque d'écoute, ce qui cause des frustrations d'un point de vue expérience client.
A l'image de ce qui était déja possible avec Skype Entreprise, il sera maintenant possible de choisir une sonnerie secondaire dans la liste déroulante des appareils connectés. Cela vous permettra d'entendre la sonnerie d'appel de vos équipes entrantes à partir de plusieurs appareils, même si un casque est connecté au poste de travail.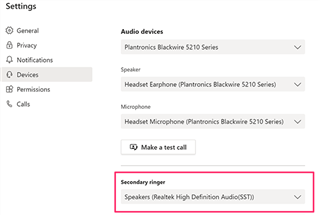 Livraison:
We'll be gradually rolling this out to desktop Windows and Mac customers beginning in mid-September. The roll out will be completed worldwide by mid-October.