Nous sommes actuellement dans une phase de transition dans laquelle les utilisateurs sont amenés a utiliser Skype Entreprise et Microsoft Teams pour des besoins différents au sein de la même organisation.
Actuellement, les modes de coexistances disponibles étant:
Island: Les utilisateurs peuvent utiliser Teams et Skype Entreprise en tant que deux solutions distinctes offrant des fonctionnalités similaires et indépendantes, telles que le chat, les appels et les réunions.
Skype Only: Les utilisateurs utilise seulement Skype Entreprise pour les fonctionnalités de discussion, de réunion et d'appel. Ils n'utilisent pas Teams pour les équipes et les canaux.
Teams Only: Utilisation de Teams comme seul outil de communication et de collaboration
Deux modes de coexistances très intéressant sont a venir:
Skype for Business with Teams collaboration (this mode is upcoming)

Use this mode to introduce Teams in your environment while you continue to leverage your existing investment in Skype for Business. In this mode, you leave Skype for Business unchanged with chat, calling, and meeting capabilities, and you add Teams collaboration capabilities—teams and channels, access to files in Office 365, and applications.
Skype for Business with Teams collaboration and meetings (this mode is upcoming)

Use this coexistence mode to accelerate the availability of Teams meeting capabilities in your organization, in addition to its collaboration capabilities, enabling your users to take advantage of the great quality, new capabilities such as transcription and translation, and support for meetings in browsers.
Information ici: https://docs.microsoft.com/en-us/microsoftteams/teams-and-skypeforbusiness-coexistence-and-interoperability
Pour des organisations utilisant Skype Entreprise comme outil de collaboration, appel et conférence, et Teams, pour le travail d'équipe, le mode "Skype for Business with Teams collaboration" est idéal.
En attendant, dans le scénario ou l'organisation ne souhaite pas ouvrir les fonctionnalités audio et vidéo dans Teams aux usagers, pour différentes raisons, il est possible de désactiver ces fonctionnalités de la facon suivante.
Fonctionnalité disponible par défaut.

1/ Désactivation de la fonctionnalité vidéo
Création d'une stratégie de meeting Teams désactivant le paramètre "AllowIPVideo". Cette opération pouvant être effectué via le centre d'administration Microsoft Teams ou en powershell
get-csteamsmeetingpolicy
new-csteamsmeetingpolicy DesactivationVideo -AllowIPVideo $false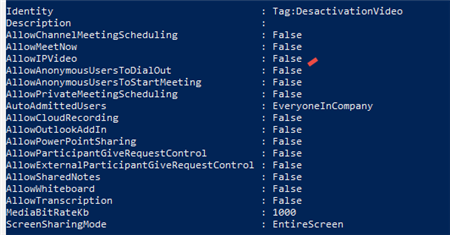 2/ Désactivation de la fonctionnalité d'appel
Cette configuration est possible via une stratégie "TeamsCallingPolicy"
En date du blog, les configurations possibles sont les suivantes: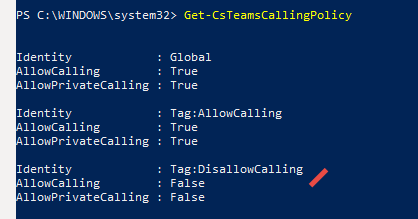 A noter que la commande new-csteamscallingpolicy n'existe pas.
3/ Affection des stratégies aux utilisateurs
grant-csteamscallingpolicy -policyname DisallowCalling -identity lenny@test.ca
Grant-csteamsmeetingpolicy -policyname DesactivationVideo -identity lenny@test.ca

Une fois la configuration répliquée, les options d'appels vidéo et audio ne sont plus disponible