Microsoft est classé pour la première fois dans les leaders par le Magic Quadrant for Corporate Telephony paru le 21 octobre 2014: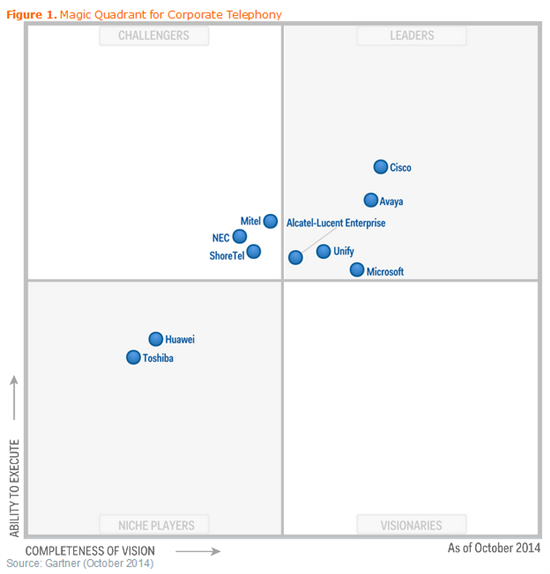 Le rapport est disponible ici: http://www.gartner.com/technology/reprints.do?id=1-23HXCI1&ct=141022&st=sb
Comment fonctionne le quadrant: http://www.gartner.com/technology/research/methodologies/research_mq.jsp
On note les points encourageants suivants:
"Telephony platforms are migrating to software-based solutions that are tightly integrated within a UC suite."
"Enterprises looking to upgrade legacy systems can use this research to decide whether to stay with an incumbent vendor or consider alternative suppliers."
Dans les "Cautions", on retrouve des conclusions qui enfonces des portes ouvertes:
" Gartner clients report challenges in providing high availability with Microsoft Lync for basic telephony. Poor call quality, dropped calls and system outages plague some implementations that did not utilize a qualified Microsoft Lync integrator."
Je doute que les entreprises choisissant de déployer un système de communication unifiée Avaya ou Cisco choisissent un intégrateur spécialisé infrastructure (AD, Exchange, Sharepoint,...), ils font affaire avec des professionnels de la téléphonie, il doit en être de même avec Lync.

Du chemin qui reflète l'intérêt croissant des entreprises pour Lync que l'on constate dans notre quotidien d'intégrateur.
Belle évolution depuis les trois derniers rapports:
2011: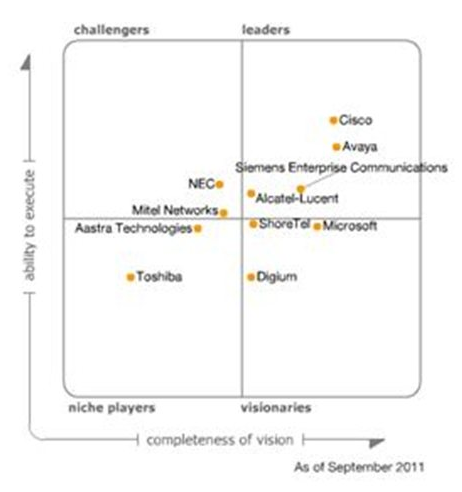 2012: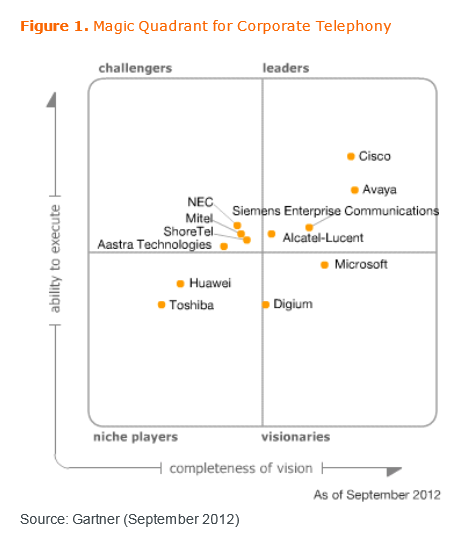 2013: