Dans le cadre d'un projet de migration de la téléphonie Cisco Call Manager et Unity connection 8.6 vers 10.5.2, un systeme de paging IPSession de IPCelerate est présent dans le décor, utilisé pour de la pagination vers les différents haut-parleurs et téléphones IP dans les écoles gérées par la commission scolaire.
La compatibilité des différentes versions de IPSession avec celles des Call Manager est résumé ci-dessous:


La compatibilités des modèles de téléphones est résumé dans le tableau suivant: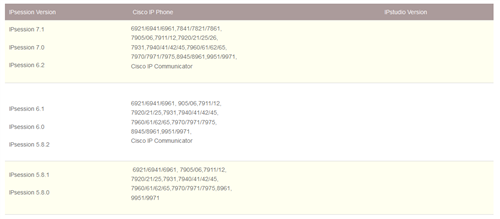 Les prérequis et recommandations pour la migration vers IPSession 7.1 sont les suivants:
Current IPsession version 6.0 – 6.2. If you are running version 5.8 of IPsession; please use the upgrade procedures for 5.8 to 7.1.
SQL Server 2005 or 2008 Express must be installed. IPsession 7.X will not work with MSDE or SQL Server Desktop Engine.
Disable IIS from running on the windows server. If IIS is running on the server this will cause the IPsession homepage to fail after the upgrade.
Windows Server 2003/2008 latest service pack installed and all critical/important windows updates.
During the upgrade you may be prompted to enter the password for the SA user account for SQL Express.
If you are running IPsession on a virtual server, take a snapshot before upgrading to 7.X.