L'outil Dialed Number Analyzer pour CUBE permet de valider la configuration du plan de numérotation, de simuler des scénarios de routages et manipulation de numéros.
Les fonctionnalités sont (en date du post):
- Emulation of CUBE
- E164 and URI Call Routing Features
- 2 Input modes – E164 and SIP Message
- 10 Call Routing features
- Output SIP Invite Generation
- Real-time config editing and testing
- Hover feature
Les scénarios:
- Dial-Plan validation
- Understand Call routing logic
- Pre-deployment config validation
- Interoperability Testing
Call routing:
- Dial-peer matching
- Translation rules
- E164 map
- Dial-peer group
- Dial-peer server group
- COR List
- URI Dialing
- SIP Profile
- Outgoing SIP Invite Generation
L'outil est accessible ici (nécessite un CCO): https://cway.cisco.com/tools/DNACube/
Option 1: Calling/Called Number
Cette option permet de valider votre routage et manipulation de numéro.
- Préciser le numéro appelé
- Préciser le numéro appelant
- Copier coller votre running-confg
- Cliquer sur Run!
Tests: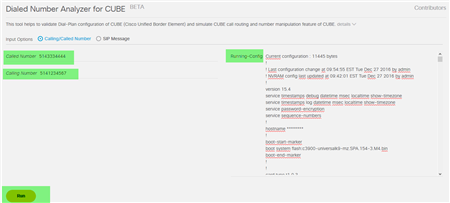 Résultat incoming dial-peer: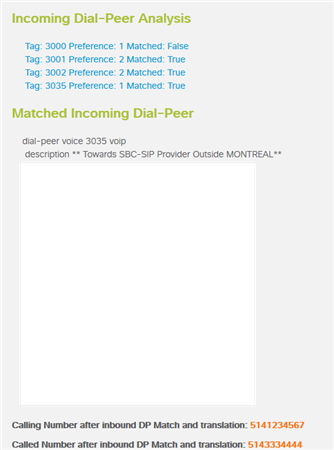 Résultat Outgoing Dial-Peer: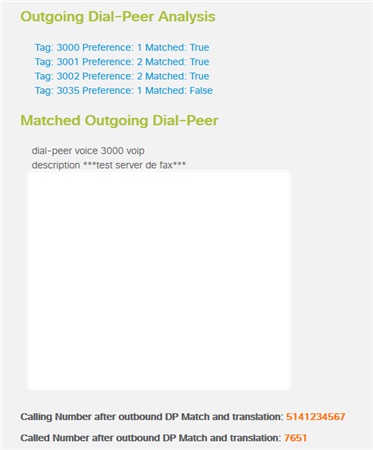 Option 2: SIP Messages

Vous pouvez aussi valider avec l'outil vos manipulations de header SIP.
Simple aussi, il suffit de copier coller votre running config et le message SIP a tester
Exemple pour un SIP Invite: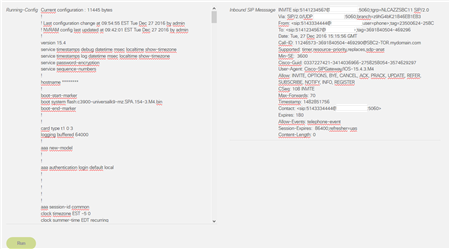 Résultat (pas mon résutat, trop long a cacher certains informations, étant une configuration cliente en production).
Input: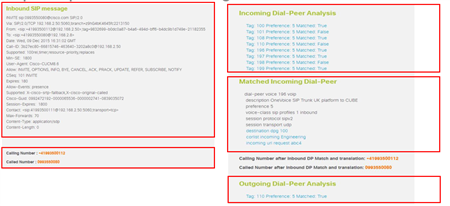 Output: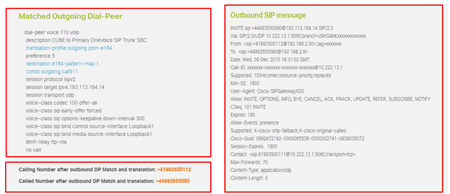 Vous pouvez a chaque tentative ou changement de configuration simplement éditer la configuration dans la page web et relancer le test.
Information ici: https://supportforums.cisco.com/document/13048886/dialed-number-analyzer-cube