Pour les administrateurs d'environnement de téléphonie sur IP Cisco, ce n'est pas forcément une opération que l'on fait régulièrement.
Empilant les projets cisco depuis le début de l'année, la question revenant très souvent, je vais détailler l'opération pas à pas.
Dans ce post, je ne prends en compte que la partie "user locale":
User locale – Langage affiché sur le téléphone
Network locale – Tonalité et cadence en adéquation avec le pays d'installation, cela assure par exemple que tout ce qui est dial tone, ringback, busy tone soit familier aux utilisateurs
Description cisco:
User Locale—Includes localized user interfaces for applications, devices and services, and localized spoken prompts. CUCM User Locales also include the Network Locale for the same country. A User Locale comprises of localized graphical user interface, telephone user interface and annunciators (audio prompts) that can be heard via telephone. User Locales are produced individually and are specific to a language and country combination.

(Combined) Network Locale—Includes localized telephone and gateway tones. Network Locale and Combined Network Locale are synonymous. Combined Network Locales include network locales for all countries that are supported. A Network Locale covers the specific localization needs of a country. These include telephone dial and ringing tones, and those that are required by a gateway to generate local tones on the network (whether it is for IP networks or Time Division Multiplexing networks on the Public Switched Telephone Network), and network annunciators that are played via gateway. Network Locales are generally produced as a single package intended to cover all supported countries.
Environnement:
- Version CUCM 10.5 Pub et Sub
- Sub tftp primaire
- Pub tftp secondaire
- Mon lab
Télécharger de langue voulu en fonction de votre version de cucm, dans mon cas, le fichier est le suivant: cm-locale-fr_CA-10.5.1.1000-1.cop.sgn.
Le fichier doit être installé sur tous les serveur du cluster, il faut ensuite les redémarrer.
Vous pouvez voir les fichier déjà installé dans vos systèmes dans Show - Software: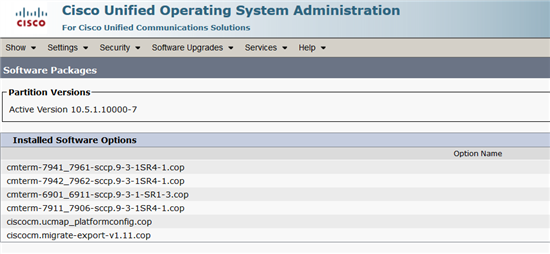 1/ Positionner le fichier sur un serveur SFTP.
2/ Connecter dans l'interface Cisco Unified Communications Operating System Administration.

Naviguer vers Software Upgrades > Install/Upgrade. Choisir Remote Filesystem et préciser les informations du serveur SFTP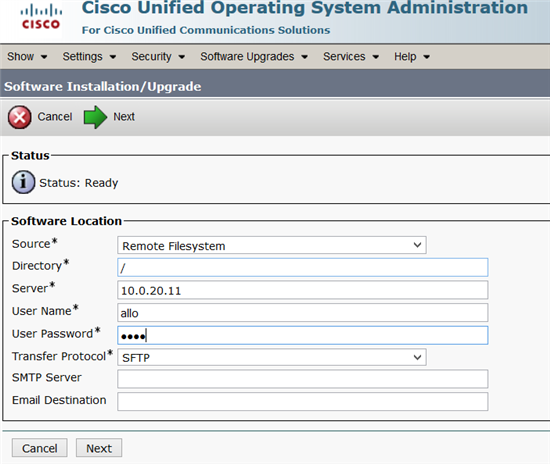 3/ choisir le fichier souhaité puis next: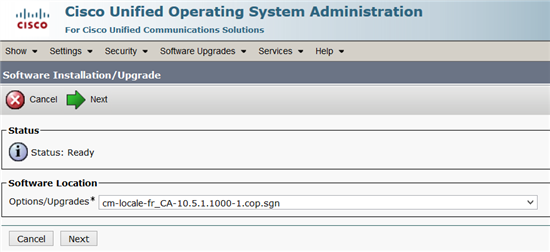 Téléchargement du ficher: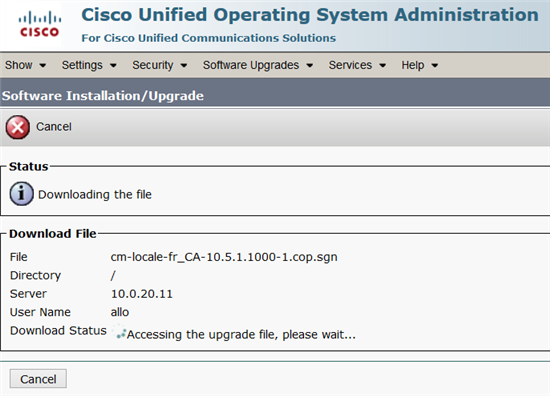 Next:

Le fichier s'installe: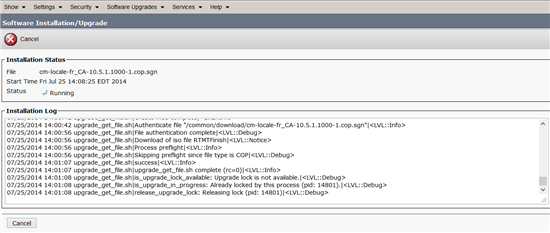 fin d'installation:

Le fichier est maintenant visible sur le serveur: