La possibilité de créer et géréer les plans de numérotation dans un tenant O365 avec Skype Online est tres attendu.
La fonctionnalité est actuellement en preview: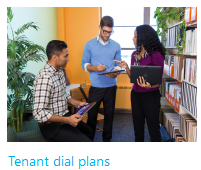 Description:
Preview for tenant dial plans will allow you to create and manage dial plans for your tenant in Skype for Business Online This functionality is currently still under internal testing, but please sign up and we will notify you once we are ready to onboard.
Qualifications
Active Office 365 Tenant with PSTN Calling, CloudPBX, or E5
Either SfB Online and Hybrid tenant setup
https://www.skypepreview.com/home/index
De la documentation technique est disponible aussi via ce lien:
https://support.office.com/en-US/article/What-are-PSTN-Calling-dial-plans-2f0cfb59-1ca1-4e31-84ce-09d0b1a7ce1b?ui=en-US&rs=en-US&ad=US
A suivre!