Depuis le firmware 4.1, une nouvelle fonctionnalité est possible avec les passerelles Sonus SBC 1/2k: Import Partial Configuration
Le SBC 1000/2000 vous permet d'importer des configurations partielles d'un autre SBC 1000/2000. Cette fonction permet vous permet de configurer rapidement une ou plusieurs unités sans la nécessité d'un SME pour l'auto-approvisionnement.

Le processus est similaire au processus de restauration en utilisant un fichier de configuration de sauvegarde précédemment exporté d'un autre nœud. La différence est que lors d'une importation de configuration partielle, tous les éléments de configuration dans le fichier de sauvegarde sont appliquées sur le noeud cible.
Prendre en considération les limitations suivantes:
You may not import across platform types (e.g. SBC 1000 to SBC 2000 or SBC 2000 to SBC 1000.
Informations non importées:
System information
Telco interface configurations
Local/Pass-Through authorization tables
SIP registration tables
SIP user credentials
Server/CA certificates
SBA configuration information
VLAN configurations
ACL tables
ACL rules
Port membership information
MSTP instances
IPSec configuration
NAT configuration
Link monitor configuration
Processus d'importation:
1- Faire un backup du premier noeud actif de votre configuration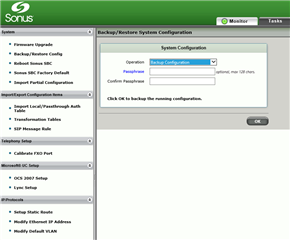 2- Connexion sur le deuxieme noeud de la configuration, choisir "Import Partial Configuration":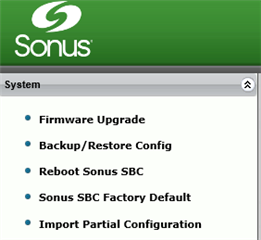 3- Importer le fichier de backup: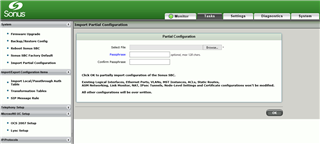 Le descriptif est tres clair concernant la capacité de cette fonctionnalité:
Click OK to partially import configuration of the Sonus SBC.

Existing Logical Interfaces, Ethernet Ports, VLANs, MST Instances, ACLs, Static Routes,
ASM Networking, Link Monitor, NAT, IPsec Tunnels, Node-Level Settings and Certificate configurations won't be modified.

All other configurations will be over written.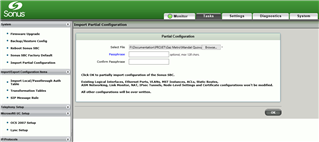 4- Accepter le message de warning:

5 - La passerelle va ensuite procéder a l'importation des parametres: