La fonctionnalité d'offline messaging est (enfin) disponible.
Annoncé il y a peu de temps, un résumé de la fonctionnalité est visible dans la slide ci-dessous: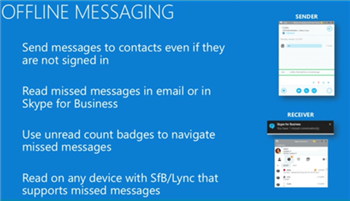 Simple, fabien envoi un message a Christophe qui est hors connexion: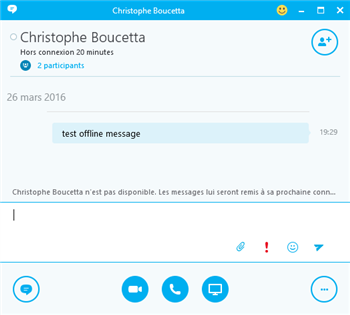 Christophe sera notifié lors de l'ouverture de son client Skype for Business et recevra aussi un courriel.
Courriel:

Ouverture du client Skype for Business:
Réception d'une alerte Windows.
Présence des messages dans l'historique des conversations.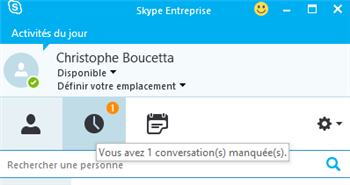 Information ici: https://support.office.com/en-us/article/Use-offline-messaging-in-Skype-for-Business-ffdc6a43-71a1-40ee-bfcc-640d21324a3d
Important:
It's coming soon The feature will be rolling out to your organization in an upcoming Office update.

It hasn't been enabled yet The offline messaging feature depends on the EnableIMAutoArchiving and DisableSavingIM properties to be set to True. If either setting is set to False, offline messaging will not be enabled. Contact your workplace technical support team for assistance.