Sonus SBC SWe Lite est une appliance virtuelle compatible Microsoft Hyper-V, KVM, et VMware ESXi disponible depuis quelques jours au téléchargement.
Les fonctionnalités principales sont:
- Layer 2 and Layer 3 based routing protocols
- Gigabit Ethernet switching
- Firewall with traffic inspection
- Session Border Controller
- Voice Media Processing through advanced Digital Signal Processing algorithms

En date de l'écriture de ce post, Sonus SBC SWe Lite possède les limitations suivantes:
Fonctionnalités non applicables:
- Application Solution Module (ASM) and supported applications including: Microsoft Skype for Business Survivable Branch Appliance (SBA), Microsoft Skype for Business Cloud Connector Edition, and other approved partner solutions for ASM.
- PRI/BRI/CAS/FXS/FXO interface features (including configuration, call termination/origination, etc.)
- One Number Fax (ONF)
Fonctionnalités disponibles dans une version future:
- IPv6
- RTCP-XR
- IPsec/Linkmon
- T.38 Fax
- Native VLAN/MSTP support
- Nectar UCD Support
- Multiple stream support
- Silence suppression for G.723
- Microsoft Lync® 2013 Quality of Experience (QoE)
- Music on Hold
- Microsoft SCOM
Je n'adresse que la partie VMWare. Pour cet hyperviseur, les prérequis hardware sont les suivants:

Observation: Platforms using AMD processors are not supported.
Recommandations pour la machine virtuelle.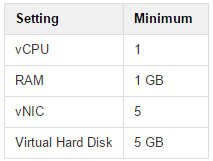 Le téléchargement de l'application nécessite un acces partenaire ou client.
Les étapes d'installations sont les suivantes:
1/ Importation du template OVF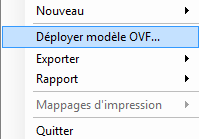 Choisir l'ova téléchargé sur le portal sonus.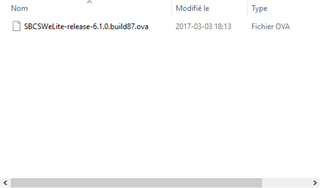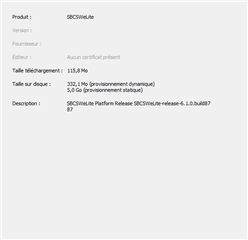 Définir le nom

Ma capacité de storage n'étant pas illimité, choix du mode "Thin Provision". En production, privilégiez "Thick Provision Lazy Zeroed "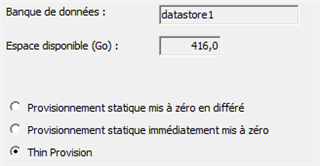 Séléctionner les réseaux nécessaires et mapper les a une carte réseau. Dans mon cas, une carte en DMZ, une dans le vlan voix comprenant mes serveurs SFB et mes deux clusters Cisco, une carte dans le vlan CCE ayant mon Cloud Connector Edition pour mes futurs tests.
La premiere carte semble être celle de management.

Valider la configuration: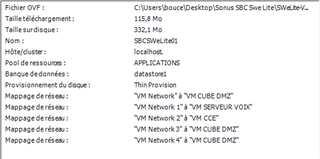 Déploiement de la VM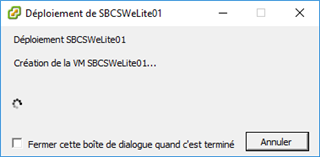 Vous pouvez ensuite modifier les paramètres de la VM.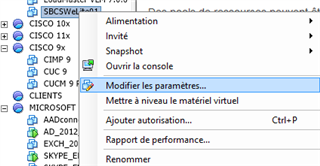 Plusieurs raisons a cela:
- Préciser une MAC statique pour les différentes cartes réseaux;
- J'ai fait plusieurs tests d'installations, parfois, le mapping carte/vlan n'est pas pris en considération.
- Par défaut, l'installation comprend 1 cpu 1 core, cela rend l'administration tres peu fluide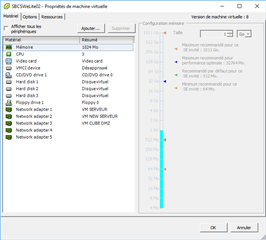 La préparation de la VM étant effective, vous pouvez procéder au démarrage.
A ce stade, vous pouvez préciser les identifiants par défaut pour procéder a la configuration de base.
Identifiant: netconfig
Password: Config!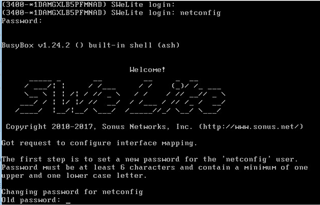 Mettre un nouveau mot de passe.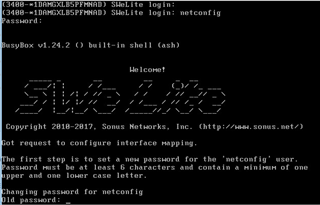 Si vous êtes sur un vlan sans DHCP, vous pouvez préciser une adresse IP temporaire d'administration afin de procéder au setup initial.

Préciser les informations IP pour l'interface de Management temporaire.
Vous devez ensuite procéder au mapping des cartes virtuelles VMWare avec celle du Sonus.
Vous devez mapper l'interface logique Sonus management, Ethernet 1,2,3 et 4 avec vos cartes virtuelles VMWare.
Valider bien que la MAC adresse correspondant a la carte réseau souhaitée, l'ordre présenté ne représentant pas forcément l'ordre de vos cartes réseaux dans VMWare.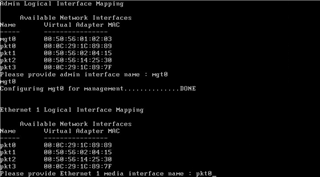 Appliquer les changements: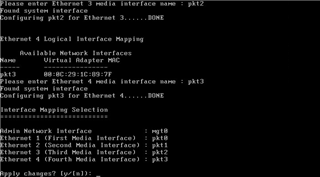 Une fois la configuration pris en considération par l'appliance, vous pouvez vous connectez a l'IP de management.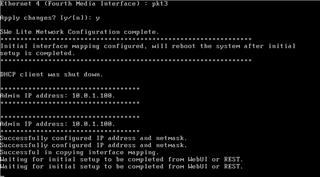 Connectez vous sur l'IP précisé pour la carte de management.
L'interface web permettant d'effectuer la configuration initiale devrait être accessible.