Microsoft a rendu disponible cette semaine au téléchargement.
Avec le cloud PBX, il est maintenant possible d'offrir aux organisations utilisant Skype for Business Online des fonctionnalités de contrôle des appels et de téléphonie directement depuis Office365.
Plusieurs options pour offrir la téléphonie avec le cloud pbx, l'utilisation du Cloud Connection Edition est l'un des scénarios possibles.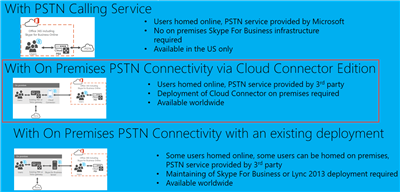 Skype for Business Cloud Connector Edition est un ensemble de machines virtuelles qui permet d'intégrer les fonctionnalités de téléphone Cloud PBX avec les équipements et liens PSTN présent localement sur site.
Les utilisateurs s'enregistrent et consomment les ressources Skype for Business dans Office 365, sont activés pour le Cloud PBX, mais les appels entrants et sortants transitent par le Cloud Connector Edition via le site local de l'organisation.

Cloud Connector Edition est une architecture hybride qui se compose d'un ensemble de machines virtuelles emballés (VM) permettant la connectivité avec l'infrastructure téléphonique existante locale.
CCE est un ensemble de machines virtuelles installant une topologie basique Skype for Business composé des machines virtuelles avec les modules suivants :
Edge component – Communication between the on-premises topology and the online services goes through the Edge component, which includes the following components:

Access Edge – Provides SIP routing between the on-premises deployment and Skype for Business Online.

Media Relay – Provides routing of media between the Mediation component and other media endpoints.

Media Relay Authentication / MRAS – Generates tokens for access to media relay.

Outbound Routing – Provides routing to gateways based on policies. Only global policies which are based on destination (outbound) PSTN numbers are supported.

Central Management Store (CMS) role – Includes the configuration store for the topology components, including CMS File Transfer.

Central Management Store (CMS) replica – Synchronizes configuration information from the global CMS DB on the CMS role server.

Domain controller – Cloud Connector Active Directory Domain Services to store all the global settings and groups necessary to deploy Cloud Connector components. One forest will be created for each instance of Cloud Connector. The domain controller should not have any connections with the production Active Directory. Active Directory services include:

Active Directory Domain Services

Active Directory Certificate Services to issue internal certificates

Mediation component – Implements SIP and Media gateway mapping protocol between Skype for Business and PSTN gateways. Also includes a CMS replica that synchronizes configuration from the global CMS database.
Les fonctionnalités offertes avec Cloud PBX étant en constante évolution, il est important de suivre les annonces de Microsoft concernant les ajouts de fonctionnalités dans cette nouvelle approche de la téléphonie.
Le lien ci-dessous résume les fonctionnalités offertes actuellement par cloud pbx:
https://support.office.com/en-us/article/Here-s-what-you-get-with-Cloud-PBX-bc9756d1-8a2f-42c4-98f6-afb17c29231c?ui=en-US&rs=en-US&ad=US
La roadmap: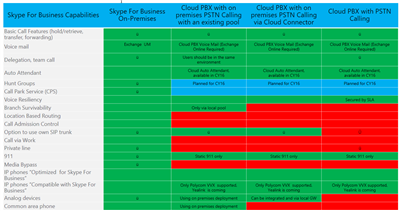 Points à prendre en considération pour un projet Skype for Business Cloud PBX hybride avec Cloud Connector Edition :
CCE, c'est donc quatre machines virtuelles par instance sur une machine hôte physique, placé dans la DMZ;
Le seul hyperviseur supporté est Hyper-V, Les quatre machines virtuelles Windows qui sont provisionnés sur un seul hôte physique Windows Server 2012 R2 Datacenter Edition exécutant Hyper-V dans la DMZ. Ceci est une exigence by design, pas de Vmware, pas d'Azure, pas d'Amazon, pas de XenServer. La configuration du Cloud Connector nécessite d'exécuter du powershell a partir du serveur hôte qui va procéder a la totalité de l'installation.
Au cours du déploiement, le processus crée sa propre forêt;
Pas de dépendance à l'égard du domaine AD interne;
Plan de numérotation attribué dans Skype for Business Online basé sur l'emplacement de l'utilisateur;
Option pour restreindre les appels internationaux;
Aucune coexistence avec un déploiement Skype For Business on premise déja existant dans l'organisation n'est possible pour l'instant;
Le flux voix transite toujours par le serveur de médiation CCE (pas de media bypass pour l'instant);
Les utilisateurs peuvent être créés dans les locaux et synchronisés en ligne en utilisant DirSync ou créés en ligne;
Pour pouvoir offrir les fonctionnalités dialin Conferencing, il est nécessaire de souscrire par utilisateur a l'option PSTN Conferencing ou utiliser les services d'un partenaire ACP;
Cloud Connector est disponible mondialement;
Les utilisateurs sont hébergés dans Office 365;
Les organisations peuvent conserver leurs opérateurs téléphoniques existants;
CCE ne nécessite pas de licence a acquérir;
Hosting Cloud Connector non supporté pour l'instant;
Coexistance avec d'autres VM non supportée;
En terme d'architecture, il est possible d'avoir 4 instances CCE (3 actives + 1 en attente) par site permettant de pouvoir offrir 1,500 appels simultannées.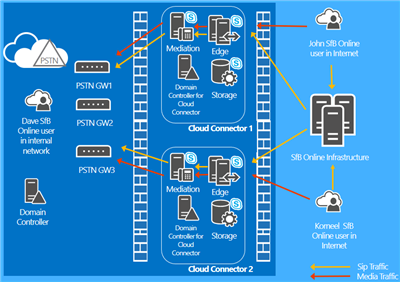 De nouvelles commandes powershell sont disponibles avec CCE: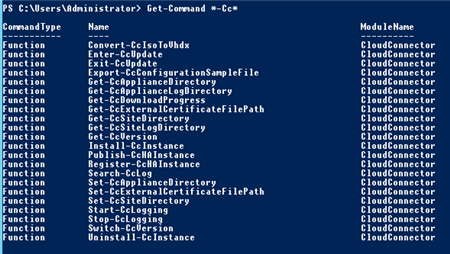 Cloud Connector Edition exige les prérequis suivants:
Une image de Windows Server 2012 R2 ISO (.iso). Les deux édition standard et Data Center sont pris en charge. L'ISO sera converti en VHD pour les machines virtuelles qui exécuteront Skype for Business Connector Couverture Édition;
PBX ou passerelles de téléphonies supporté par Microsoft;
Un certification pour les listeners externes du Edge obtenu par une autorité de certification publique;
Prérequis materiel pour un environnement pour supporter 500 appels simultannées:

64-bit dual processor, six core (12 real cores), 2.50 gigahertz (GHz) or higher
64 gigabytes (GB) ECC RAM
Four 600 GB (or better) 10K RPM 128M Cache SAS 6Gbps disks, configured in a RAID 5 configuration
Three 1 Gbps RJ45 high throughput network adapters

Prérequis materiel pour un environnement pour supporter 50 appels simultannées: