Dans le cadre d'une migration d'un environnement Lync vers Skype for Business comprenant des SBA, une réassociation de ces derniers avec le nouvel environnement est nécessaire.
Au jour du post, l'applicatif SFB pour SBA n'est pas encore disponible, mais l'image Lync Serveur est totalement compatible dans le cadre d'une coexistance avec les nouveaux serveurs SFB:

Skype for Business Server 2015 doesn't support an In-Place Upgrade of a Lync Server 2010 or Lync Server 2013 Survivable Branch Appliance (SBA), or a Lync Server 2010 Survivable Branch Server (SBS), or a Lync Server 2013 SBS.
However, we do support coexistence of Skype for Business Server datacenters with Lync Server 2013 SBS/SBA and coexistence of Skype for Business Server datacenters with Lync Server 2010 SBS/SBA.

Source:
L'opération nécessite de respecter les étapes scrupuleusements.
1/ Déplacez les utilisateurs du Survivable Branch Appliance vers le pool de serveurs SFB:
Exemple de commande disponible ici: https://technet.microsoft.com/en-us/library/gg182600.aspx
L'objectif est de déplacer les utilisateurs et téléphones gérés par le SBA vers le pool. Bien prendre les comptes afin de procéder a l'opération inverse ensuite.
2/ Stopper les services Lync sur le SBA
stop-cswindowsservice

3/ Modification de l'association dans le topology builder
Dans le topology builder, naviguer vers le Branch sites, faire un clique droit "Edit"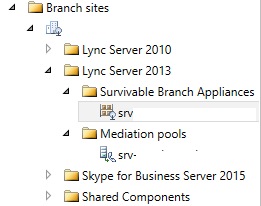 Modifier l'association pour le nouveau pool Skype for Business.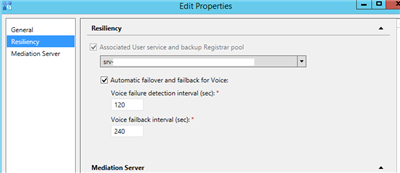 Vérifier la configuration: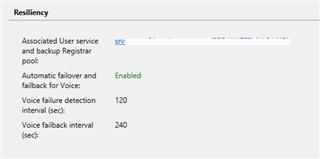 Publier la topologie.
4/ Redémarrez tous les services Lync Server sur le Survivable Branch Appliance

5/Déplacez les utilisateurs du site distant hébergé temporaire sur les serveurs SFB vers le SBA.