Microsoft Teams est en constante évolution
Ces derniers jours, des nouvelles fonctionnalités furent ajoutés dans le client Microsoft Teams.
Nouvelle fonctionnalité: Bloquer un numéro de téléphone externe

Vous pouvez maintenant empêcher un numéro de téléphone externe spécifique de vous contacter en activant le mode "Bloquer" dans l'historique des appels. Cela fonctionne aussi avec une identité.

Fonctionnalité disponible depuis la mise a jour du 14 décembre 2018:
Can the Spam
We've got your back with the new blocked calls feature, currently available to Enterprise Voice customers.
Source: https://support.office.com/en-gb/article/what-s-new-in-microsoft-teams-d7092a6d-c896-424c-b362-a472d5f105de
Pour procéder a la mise en place du mode "Bloquer" sur un numéro spécifique, naviguer vers votre historique d'appels:
Appels - historique - sélectionner ... sur le numéro à bloquer, choisir l'option "bloquer"

choisir l'option "bloquer"
L'option sera visible dans l'historique.
Vous pouvez gérer la liste des numéros bloquer a une place unique, naviguer dans Votre Image - Paramètres - Appels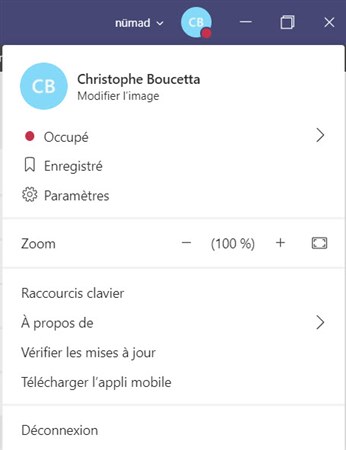 Sélectionner "Gérer les numéros bloqués"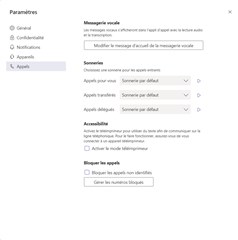 Vous pouvez désactiver le blocage des numéros directement depuis cette page.