Fonctionnalité très demandé par les organisations, surtout dans le cadre de migration de Skype Entreprise vers le mode Teams Only, la fédération entre Teams et le client Skype Consumer sera bientôt disponible.
Roadmap ID: 53935
La généralisation de cette fonctionnalité vas permettre aux utilisateurs Teams et Skype Consumer de discuter et passer des appels VoIP entre eux. Pour cette intégration "v1", il existe quelques limitations qui sont documentées ici:
Conversations are text-only. This means that there's no rich formatting, @mentions, emojis, or other any of the other chat features that are available in a native Teams chat experience.
Conversations are one-on-one only. Group chats aren't supported.
Teams users and Skype users can't see each other's presence.
Searching for Skype users by using their Skype ID or phone number isn't supported.
https://docs.microsoft.com/en-us/microsoftteams/teams-skype-interop

Pour bénéficier de cette fonctionnalité, il est important que la fonctionnalité est activé dans votre tenant.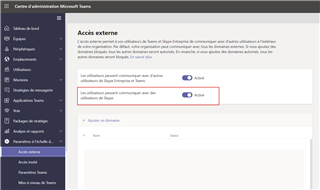 Annonce: