Intégrateurs, consultants, administrateurs, on se doit de développer, approfondir et maintenir nos connaissances.
La nouvelle version 2013 amène dans son sillage toute une série de nouveaux livres:
Mastering Microsoft Lync Server 2013:
La version 2010 était excellente, je vais recevoir la nouvelle version cette semaine, je l'attends depuis plusieurs mois avec beaucoup d'impatience. Réservé plutôt à des personnes ayant des bonnes connaissances sur la technologie.
Microsoft Lync Server 2013 Unleashed (2nd Edition):
J'avais aussi lu la version 2010, cette nouvelle version est du même acabit, niveau débutant/intermédiaire sur la technologie, quelques passages intéressant sur les nouveautés à propos de la vidéo, les chapitres sur la planification apportent des éléments importants.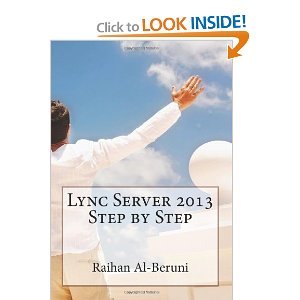 Microsoft Lync 2013 Plain & Simple:
Pas de commentaires sur ce livre, je ne l'ai pas lu.
Microsoft Lync 2013 Unified Communications: From Telephony to Real Time Communication in the Digital Age:
Pas de commentaires sur ce livre, je ne l'ai pas lu.