J'ai eu l'occasion au mois de Juillet de déployer un environnement Kemp VLM-1000 HA pour un client d'envergure dans le cadre d'un projet Microsoft Lync Serveur 2013.
La configuration HA est très simple, je viens de la reproduire dans mon laboratoire pour test, les copies d'écrans proviennent de cette environnement.
Dans le cadre d'un déploiement haute disponibilité, les deux unités sont dans un mode active/standby, une est active, l'autre est passive.
Mon lab: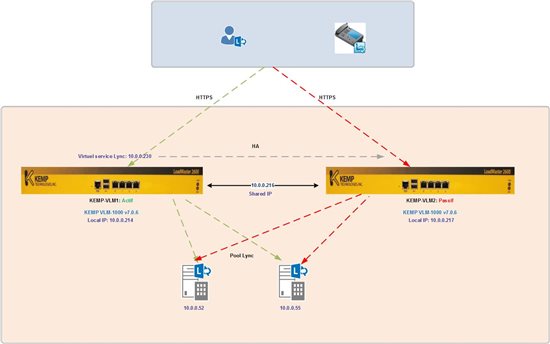 Prérequis:
LoadMasters must be located on the same subnet in order to be in a HA pair
Must be in the same physical location
A layer 2 connection (Ethernet/VLAN) is required
Ensure to have more than one interconnection between the 2 LoadMasters to avoid data or availability inconsistency
The 2 LoadMasters need the same default gateway
Use Network Time Protocol (NTP) to keep times on LoadMasters up-to-date. This ensures that the times will be correct on any logs.
Ensure that any switches do not prevent MAC spoofing
Latency must be low enough
Multicast traffic is required
The appropriate LoadMaster license should be in place
La configuration:
Connexion sur le serveur que l'on souhaite configurer en tant que master (actif) 10.0.0.214
Activation du mode HA:

Si vous souhaitez que cette machine virtuelle redevienne le master suite à un basculement, précisez le paramètre: Prefer First HA
La version haute disponibilité de base est "CARP" qui est l'option par défaut.
CARP: provides shared-IP or shared-MAC mode, improvements to support prolonged time to link, and supports cryptographic hashing to validate HA communication
Suite à l'activation, vous allez surement voir apparaître ces deux avertissements:
Procédons maintenant à la configuration réseau:
HA Shared IP address vous permet d'administration et de configurer l'environnement
HA Partner IP address est la deuxième machine virtuelle de l'environnement HA

Un reboot est nécessaire.
Même configuration sur la deuxième unité sauf que pour cette dernière, la configuration HA est:
Configuration réseau:

Et un reboot!
On peut constater ensuite en se connectant directement sur les deux unités l'état de la configuration:
10.0.0.214:

10.0.0.217:

Place aux tests, avant l'arrêt de l'unité 1:


après l'arrêt de l'unité 1, on constate que la deuxième unité est devenu master et à pris le relais pour assurer les fonctionnalités requises pour l'environnement:

KEMP Faq: http://kemptechnologies.com/faq