Un peu plus d'information est disponible sur le futur des certifications Lync.
Il retrouve maintenant deux niveaux de certifications:
- Le niveau "Expert" avec le MCSE Communication, pour valider ce cursus, il faut réussir les certifications suivantes: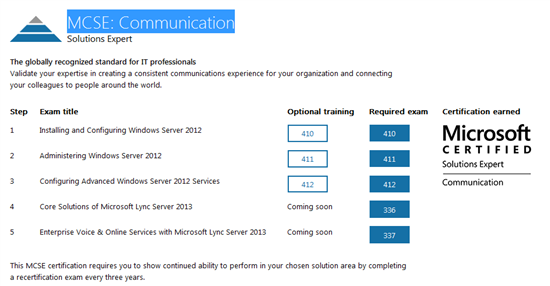 Autant prévenir que le temps pour l'obtenir est conséquent, autant de certifications que pour valider le CCNP Voice, du boulot en perspective.
- Le niveau "Master" avec le MCSM: Communication: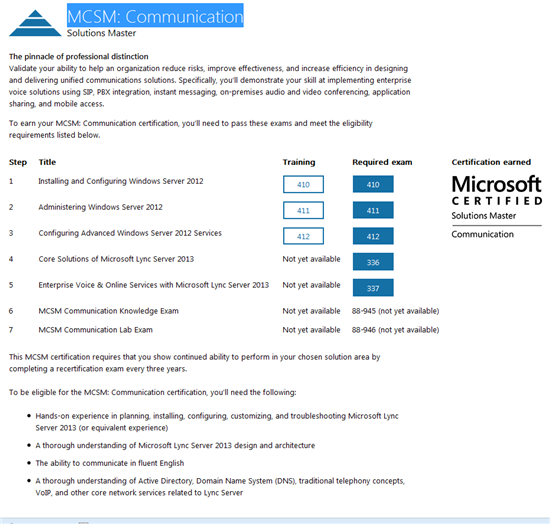 Pour valider ce cursus, on retrouve un examen écrit et un lab à l'image du CCIE, pour l'instant, il est encore tôt pour avoir des informations sur le contenu de ces deux examens, mais je devrais en savoir plus bientôt.
Source ici: http://www.microsoft.com/learning/en/us/lync-server-certification.aspx
Des points importants à signaler dans la FAQ du processus de certification MCSE:
Q. What are the recertification requirements for the new MCSE certifications?

A. To ensure that our certifications remain meaningful and valuable indicators of candidates' skills, MCSE certifications will require recertification every three years.
FAQ ici: http://www.microsoft.com/learning/en/us/mcse-certification.aspx