Vous utilisez éventuellement le connecteur Microsoft Teams Call Quality Dashboard pour Power BI et si vous n'avez pas jamais essayé les modèles QER (quality of experience) avec Power BI, il est temps de découvrir la version 4.7 qui amène beaucoup de nouveautés ainsi que des informations très pertinentes pour les intégrateurs et les administrateurs d'environnement Microsoft Teams.
Vous pouvez télécharger QER en version 4.7 ici: https://www.microsoft.com/en-us/download/details.aspx?id=102291
Les nouveautés pour la version 4.7 sont les suivantes:
ISP Update
CQD now provides the needed ASN ISP Name natively through Neustar services. The DBIP free database is no longer required. All references to DBIP have been removed from the template and replaced with the correct ASN ISP Name dimension.
Accessibility
The QER template is now accessible to those who have color deficiencies. Colors have been applied uniformly across the template with icons to help visualize the associated green, yellow, or red. Background colors are applied using a gradient method, while icons are coded using rules.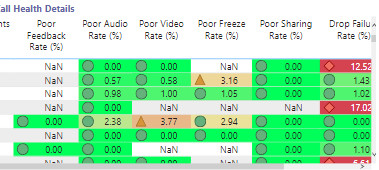 Freeze Rate replaces Video Rate
The Poor Freeze Rate replaces the Poor Video Rate as the dominant KHI in all video-based visuals. Poor Freeze Rate is sensitive to packet loss (avg and burst) making it more effective in isolating issues with a poor video experience caused by network conditions. The Poor Video Rate is still included in all visuals.
New Scatter Chart Report
A new Scatter chart report is available to help identify issues with latency and packet loss by ASN locale.
Transport and VPN Report
The Transport and VPN reports have a new visual to break down TCP and VPN usage by session type and client.
Media Setup
The Media Setup report has new visuals showing setup failures by domain and session type. Additionally, the client visual now displays setup failures by session type.
Filters
The QER now filters out streams that were not answered, declined, or timed out via the CDR Response Code (480=UserUnavailable, 487=PickupTimedOut, and 603=CallDeclined). These streams do not contain any established media so there is no impact to the network. However, CQD does classify these as established streams so it is expected that you will notice a difference in stream counts. Mid call failure rates are impacted as well. You can remove this filter by adjusting the CDR Response Reason filter on the associated page.
Comment déployer ces rapports?
Les étapes d'installations sont les suivantes:
Prérequis: Power BI Desktop
1/ Installation CQD Connector
Il est nécessaire d'installer ou mettre a jour le CQD Connector
Naviguer vers le repertoire (ou créer le si non existant) [Documents]\Power BI Desktop\Custom Connectors
Copier le fichier MicrosoftCallQuality.pqx vers ce repertorie
Démarrer Power BI Desktop
Naviguer dans les options de sécurité vers Select Fichier > Options et paramètres > Options > Securité
Sous "Extensions de données", sélectionner (Non recommandé) Autoriser le chargement de toutes les extensions sans validation ni avertissement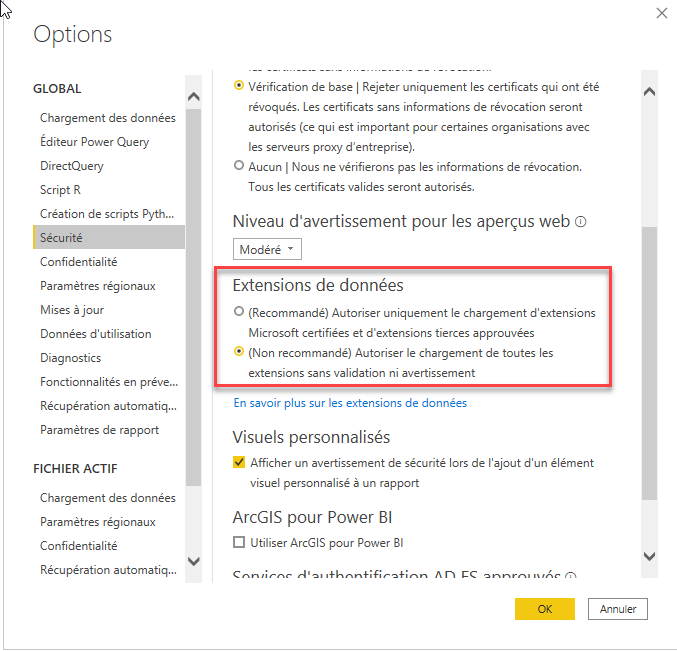 Redémarrer Power BI Desktop
2/ Publier les rapports QER

Prérequis, il est nécessaire de disposer de privileges permettant d'avoir accès au call analytics
Lancer le fichier QER v4.7.pbit

Naviguer dans Fichier, Options et paramètres, Options puis Sécurité, sélectionner Autoriser le chargement de toutes les extensions sans validations ni avertissement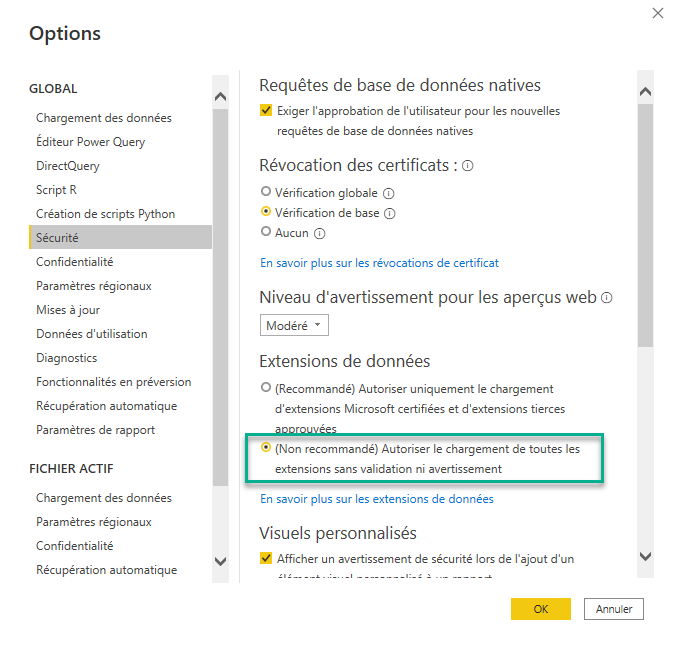 Une fois connecté, l'interface d'acceuil est maintenant disponible
Publier les rapports vers votre espace personnel Power BI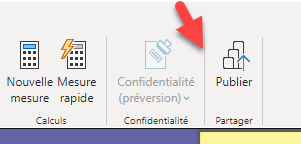 Une fois publié, vos rapports sont disponibles dans votre espace personnel, de mon côté, j'affectionne les consommer directement par mon client Teams.