Poly vient de rendre disponible une nouvelle mise à jour applicative pour ces systèmes G7500, la famille des Studio X et le Studio E70
Version: 3.13
Date: 31 Août 2022
Accès aux firmwares:
Versions Teams applicatives: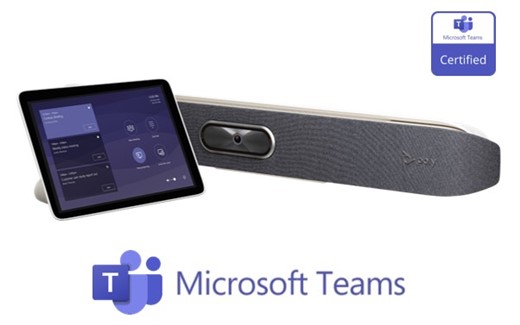 Les nouveautés disponibles avec cette nouvelle version applicative:
Studio E70 and Studio X70 Fixes and Improvements
This release includes important bug fixes, which in conjunction with an improved error handling mechanism, intend to eliminate situations where the Studio E70 camera would need to be rebooted or power cycled.
These improvements will directly help with issues on Windows-based systems, G7500 systems, and Studio X70 systems. Additionally, this release adds a retry mechanism to G7500 and Studio X70 system software. This retry mechanism works to recover a Studio E70 camera if it's not providing streams to the system and fixes deadlocks that may lead to the camera being lost by the system.
Between the Studio E70 issues and the fixes to the G7500 and Studio X70 platform, customers should not need to power cycle the Studio E70 or the system in order to recover from failures.

Fix for Peripheral Update in Sleep Mode
Introduced in Poly VideoOS 3.13.0, the system now wakes up and updates connected peripherals when an update is started while the system is in sleep mode.
While this fix is included in this release, you'll still need to wake your system before updating to 3.13.0.
For future updates, this will no longer be required.

Support for Tencent Meeting Rooms on G7500
This release introduces support for Tencent Meeting Rooms on Poly G7500 systems.
G7500 with Tencent Meeting Rooms supports:
• 2 standard monitors or 1 standard and 1 touch-enabled monitor
• 2 Poly TC8 controllers
• 1 Poly EagleEye IV camera
• 1 Poly IP microphone

Support for UGreen HDMI-to-USB Camera Adapter
This release introduces support for the UGreen HDMI-to-USB (PN: 10937) adapter to connect an HDMI camera to a USB port on your G7500 system.
Hot plugging a UGreen HDMI to USB adapter during a call results in a system reboot. Poly recommends connecting the UGreen HDMI to USB Adapter outside of a call.

Support for Displaying the System Name Instead of the SIP Address in Calls
This release introduces support for displaying the system name instead of the SIP address during a call when using Poly Video mode. To enable this setting in the system web interface, go to Call Configuration > Call Settings > Display System Name Instead of SIP Address.
Vous pouvez parcourir la release notes Poly G7500 et Studio X Release Notes pour la version 3.13 ici: https://www.poly.com/content/dam/www/products/support/video/video-os/release-notes/video-os-rn-3-13.pdf