Une nouvelle fonctionnalité "USB Pass-through for Windows 10" est disponible avec la dernière version logiciel Polycom Trio.
Dernière version logiciel:`https://microsofttouch.fr/default/b/christophe/posts/skype-for-business-microsoft-teams-polycom-trio-8800-8500-software-5-9-2aa
Cette nouvelle fonctionnalité permet à des utilisateurs de connecter un ordinateur Windows 10 à un système Poly Trio 8500 ou 8800 via un câble USB 2.0 et utiliser les microphones, les haut-parleurs et les caméras connectées du système comme des périphériques USB distincts.
Les utilisateurs peuvent ensuite choisir d'utiliser les composants du système Poly Trio comme périphériques USB pour divers clients de communication, y compris Skype Entreprise, Microsoft Teams, Google Meet, Cisco WebEx, Zoom et autres.
Les utilisateurs peuvent également mettre en miroir leur écran d'ordinateur sur n'importe quel moniteur connecté à un système Poly Trio Visual + ou VisualPro couplé.
Pour pouvoir utiliser cette fonctionnalité, il est nécessaire de télécharger l'application "Poly Trio Pass-through For Windows 10" ici: https://support.polycom.com/content/support/north-america/usa/en/support/voice/polycom-trio/polycom-trio-8800.html
Release Notes: https://support.polycom.com/content/dam/polycom-support/products/voice/realpresence-trio/release-notes/en/poly-trio-pass-through-release-notes-1-0-0.pdf
Le build de l'application doit être au minimum 1.0.0.0067 et l'installation est simplement du type "next next" en suivant les instructions à l'écran.
A niveau de la configuration du Poly Trio, il est nécessaire d'ajouter les configurations suivantes:
<?xml version="1.0" encoding="utf-8" standalone="yes"?>
<!--Enable the feature-->
<mr mr.devicePassThrough.usb.enabled ="1"/>
<!--integer number equal to 1 + (the number of Visual+ and Visual Pros to pair with)-->
<mr mr.pair.maxDevices="15"/>
<!--Optional Configuration Parameter "1080p", "720p", "540p, or "360p"-->
<mr mr.passThrough.camera.maxResolution=""/>
Une fois le processus d'installation terminé, l'application est en attente du connexion USB au Poly Trio.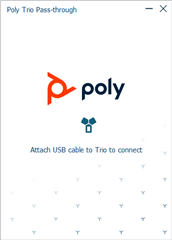 Une connexion USB provoque automatiquement une detection de la connexion pour établir la liaison.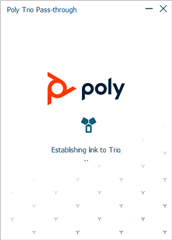 La liaison établie, une fonction de mirroring de l'écran est disponible: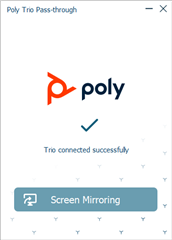 Vous pouvez aussi utiliser depuis client (skype dans l'exemple) les périphériques connectés au Poly Trio.
Audio: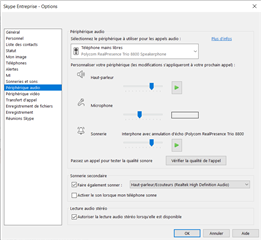 Vidéo: