Sonus a rendu disponible nouveau firmware Sonus SBC SWe Lite en version 7.0.2 amenant toute une série de nouvelles fonctionnalités et possibilité de support.
Nouvelles fonctionnalités:
CHOR-362 Support for Hyper-V, 1vCPU

SWe Lite now supports Hyper-V, which supports a single vCPUs.

- For Memory (RAM), 1 GiB is supported.
- For vCPUs, 1 vCPU is supported.


CHOR-208 IPv6 Support

Support for IPv6 has been included in the SBC SWe Lite. IPv6 is supported in network services (such as interface addressing, static routing, neighbor resolution and DNS), as well as support in voice applications (such as SIP, Media Stream Control, Common Control, etc.).


Corrections de problèmes:
CHOR-1931 Video call license handling
CHOR-1934 Media system stability improvements on mixed audio/video call modes
CHOR-1775 Enabling MOH for a SG results in call being dropped when placed on hold
CHOR-2015 SWELite 7.0: Not able to create Easy Wizard configuration
Migration vers la version 7.0.2: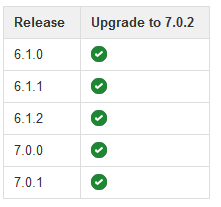 Information ici: https://support.sonus.net/display/UXDOC70/SBC+SWe+Lite+7.0.2+Release+Notes#SBCSWeLite7.0.2ReleaseNotes-NewFeatures/UpdatesinThisRelease