Ribbon a rendu disponible un nouveau firmware pour la technologie SBC SWe Lite.
Version: 7.0.3
Date: 8 juin 2018
Principales nouvelles fonctionnalités:
Microsoft Teams/Direct Routing Interworking
This release supports the Direct Routing Public Preview from Microsoft. There is a new configuration option for the user-entered Static Host to be used in the SIP Contact Header. This option is configured within the SIP Profile's "FQDN in Contact Header" field.

SYM-22409 Header Transparency
Header Transparency is a new option in the SIP Signaling Group. This option indicates the SBC passes through all non-dialog related SIP headers from any inbound SIP messages to the outbound messages.

SYM-13340 Encrypt AD Cache Backup
An option is added to enable encrypting the contents of the AD cache for the SBC SWe Lite. This secures the contents against unauthorized viewing.
Correction de problèmes:
CHOR-2213 Update VLAN Logical Interface validation to allow 0.0.0.0 w/ no next hop
CHOR-2229 With multiple VLANs on the same interface calls are failing due to a default route issue
SYM-25012 SoftBank WO Easy Setup: Disable 'Remove PI=2 from Alerting' Message Translation Table
Mise a jour de sécurité:
CHOR-2114 CVE-2017-18255: local user denial of service
Chemin pour la mise a jour: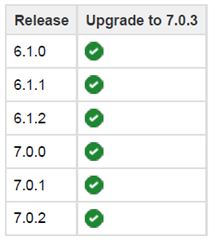 Accès a la release notes: https://rbbn.force.com/Support/501C0000000VUmFIAW