Polycom a publier pour le mois de Décembre 2017 une nouvelle révision software pour les Polycom Trio en version 5.5.3
La révision s'applique aux produits suivants:
● Polycom Trio 8500
● Polycom Trio 8800
● Polycom Trio Visual+
Support Microsoft: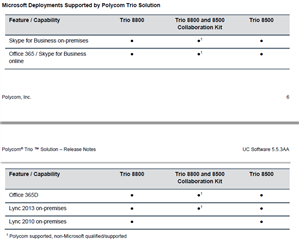 Nouveautés:
Transport Layer Security (TLS) version 1.2:
Les polycom Trio supportent maintenant TLS en version 1.2 pour les applications suivantes:
● LDAP
● SIP
● SOPI
● Web server
● XMPP
● Exchange Services
● Syslog
● Provisioning
● 802.1x

Support for Video-based Screen Sharing:
Les polycom Trio 8500 et 8800 sont maintenant capable de recevoir du contenu vidéo au format VbSS.
Le paramêtre d'activation/désactivation est : content.vbss.enable

Polycom Trio 8800 with Polycom ® EagleEye MSR Camera
You can connect the Polycom® EagleEye
MSR camera, firmware version 1.1 or later, to Polycom Trio Visual+ paired with a Polycom Trio 8800 system using UC Software 5.5.3 or later in rooms configured for use with the EagleEye MSR camera.
Polycom recommends using the EagleEye
Releases notes ici: http://documents.polycom.com/sites/eeiv-usb-camera/1-1-0/index.html

Polycom Trio 8500 with Polycom Trio Visual+ Collaboration Kit
Administrators can now pair a Polycom Trio Visual+ accessory with a Polycom Trio 8500 system and connect a monitor, Logitech Webcam C930e USB camera, and 3.5 mm speakers to the accessory, which users can use for audio calls, video calls, and content sharing.

SILK Audio Codec
Les Polycom Trio supportent maintenant le codec audio SILK

AirPlay Discovery over Bluetooth for Polycom Trio 8800
UC Software 5.5.3 enables users to discover and connect to Polycom Trio 8800 system over AirPlay using Bluetooth when the Polycom Trio system and Apple device are on different networks.
Paramètre d'activation/désactivation: content.airplayServer.discovery.bluetooth.enabled.
Informations
Releases notes disponible ici: https://support.polycom.com/content/dam/polycom-support/products/Voice/realpresence_trio/release-notes/en/trio-release-notes-5-5-3.pdf
Téléchargement du software: https://support.polycom.com/content/support/North_America/USA/en/eula/trio/trio-8800-agreement-5-5-3-rev-aa.html
Téléchargement fichier cab: https://support.polycom.com/content/support/North_America/USA/en/eula/trio/trio-8800-agreement-5-5-3-rev-aa-cab.html