Microsoft vient de publier une nouvelle version du SDN (Software Defined Networking) Lync.
Description:
The Lync SDN (Software-Defined Networking) API allows developers to build applications and services that can monitor, isolate and correct issues on the network that affect Lync quality of experience. The installer application also provides customers with the ability to interface with qualified 3rd party applications built on the Lync SDN API. Lync Server 2010 and 2013 provide customers with an unmatched unified communications and collaboration experience. Since Lync relies on the underlying network, sometimes the quality of experience can be affected by underperforming or improperly configured network elements. Applications built on the Lync SDN API provide the ability to quickly detect quality-affecting issues on the network, and deliver prescriptive resolutions and traffic prioritization.
Lien: http://www.microsoft.com/en-us/download/details.aspx?id=44274
Fichier: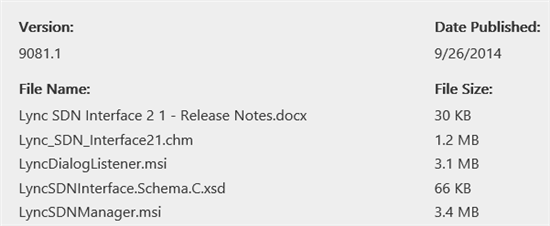 Évolutions de cette nouvelle version:
Evolved the architecture to better support High-Availability topologies.
Simplified deployment and configuration of the SDN interface.
Extended the device information presented to network management systems for better diagnostics and event correlation.
Qualified functionality across Lync Server 2010, 2013 and included IPv6 topologies.
Vous pouvez trouver une intéressante description ici: http://blogs.office.com/2014/09/29/new-version-lync-sdn-interface-now-available/