Le blog de Kemp annonce avoir réussi le processus de certification des produits LoadMaster dans la section Load balancer et reverse proxy pour Microsoft Lync serveur 2013:
http://kemptechnologies.com/blog/kemp-family-of-loadmaster-products-are-now-part-of-infrastructure-qualified-for-lync-2013/
The latest good news from KEMP Technologies is that we are now an officially qualified infrastructure solution for Microsoft Lync. The Microsoft Unified Communications Open Interoperability Program (UCOIP) confirms the status of KEMP as a leading provider of not just load balancing, but also reverse proxy solutions for enterprise Lync deployments.
In qualifying for certification, the KEMP LoadMaster has to balance Lync traffic in a number of scenarios, including enterprise pools with multiple front-end servers, across an array of directors and edge servers. Scenarios included the delivery of services to both internal and external Lync clients.
The UCOIP qualification applies to both Lync 2010 and Lync 2013 across all delivery platforms including virtual, appliance, bare-metal and cloud. This offers customers the maximum flexibility with the technology they use to deliver Lync along with confidence in the capability and quality of KEMP solutions. To simplify deployment of load balanced Lync solutions, KEMP provides detailed configuration guides and application templates along with free technical support during the first year.

Hardware load balancers for Lync Server: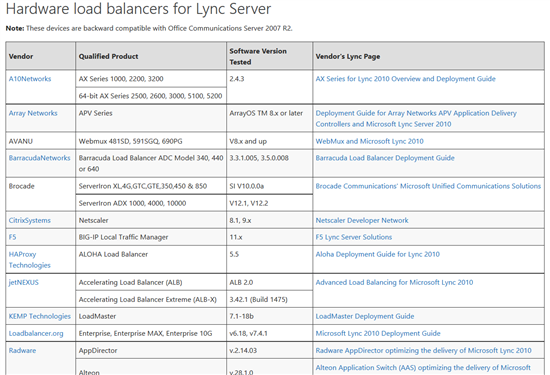 Reverse proxies: