J'ai fait face à un problème assez intéressant concernant System Center Operations Manager 2007 et 2012 et l'affichage de la vue Scheduled Report qui doit lister les rapports que vous avez programmé pour être délivrés. La console vous renvoie l'erreur suivante :
Report Subscription list could not be loaded
Object reference not set to an instance of an object.

Ce problème est survenu après la migration du serveur de rapports d'une version SQL Server 2008 vers SQL Server 2008 R2. Ceci pourrait aussi survenir lors de la migration simple du composant reporting d'un serveur à un autre.
Avant d'aller plus loin, assurez-vous que vous avez appliqué le dernier Cumulative Update ou Rollup Update sur l'infrastructure.
Ce problème survient notamment si les paramétrages E-mail n'ont pas été renseigné dans l'instance Reporting Services. Pour cela, suivez la procédure suivante :
Ouvrez le menu démarrer puis Reporting Services Configuration Manager
Connectez-vous à l'instance RS utilisée par SCOM
Allez dans la partie Email Settings. Si cette partie est totalement blanche c'est que vous avez le problème décrit.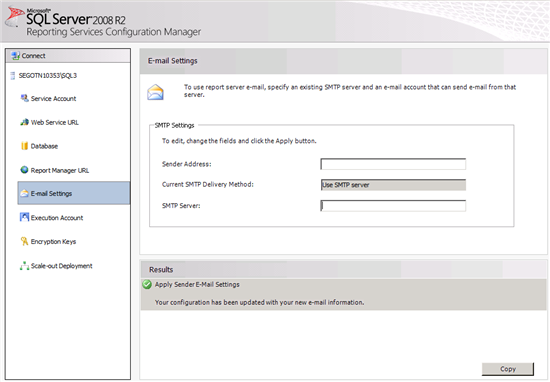 Renseignez l'adresse d'envoi et le serveur SMTP.
Faites Apply.
Fermez et ouvrez la console (il se peut que vous deviez faire un clearcache de celle-ci) puis essayez d'ouvrir la vue correspondante.