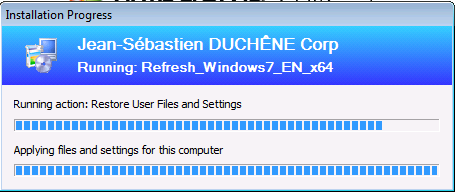 Je suis en train de me remonter une maquette avec des procédures bien carrées pour le déploiement de système d'exploitation sur SCCM.
Dernièrement, j'ai installé le rôle State Migration Point afin de la migration de données utilisateur dans le cadre de déploiement Replace (side-by-side) et Refresh (In-Place).
J'ai rencontré une erreur peu commune lors du déploiement en mode refresh :
SMP request to "NAMESERVER" failed with error: E_SMPERROR_RESTORING_CLIENTID_NOT_FOUND (207)
Request to SMP 'NAMESERVER' failed with error (Code 0x80004005). Trying next SMP.
Cette erreur n'est habituellement pas associée au déploiement Refresh mais à un déploiement de type Replace. Elle intervient quand vous capturer les paramètres utilisateur sur l'ordinateur source puis en les restaurant sur l'ordinateur cible sans avoir créé d'association d'ordinateur (Computer Association). De ce fait, pendant le processus de déploiement lorsque le client contact SCCM pour savoir quelles données il doit restaurer, SCCM n'est pas en mesure de lui retourner un résultat.
Avec un déploiement en mode Refresh, la séquence de tâches est préfabriquée et SCCM s'occupe de créer cette association d'ordinateur lors de la sauvegarde des paramètres durant la séquence de tâches. Ainsi, il n'y a aucune raison de rencontrer cette erreur.
Cependant, mon client Windows XP SP3 (avec le client SCCM) que j'essaye de migrer, j'ai mainte fois fait des rollbacks avec la fonctionnalité Revert d'Hyper-V (j'avais fait un snapshot parce que je suis un flemmard) . Et sans comprendre pourquoi, le compte d'ordinateur du client dans Active Directory était corrompu et me faisait rencontrer cette erreur lors de la restauration des données utilisateur …
Après avoir disjoint et rejoint le domaine avant le déploiement, celui-ci a eu lieu sans aucun problème.
Je dois être l'un des rare à avoir eu cette erreur dans le cadre d'un déploiement Refresh … Tout ça parce que je suis flemmard