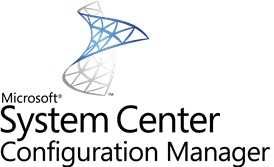 Microsoft vient de mettre à disposition la Technical Preview 1904 (5.0.8813.1000) de System Center Configuration Manager. Pour rappel, ConfigMgr a subi une refonte de sa structure pour permettre des mises à jour aisées de la même façon que l'on peut le voir avec Windows 10. Si vous souhaitez installer cette Technical Preview, vous devez installer la Technical Preview 1804 puis utiliser la fonctionnalité Updates and Servicing (nom de code Easy Setup).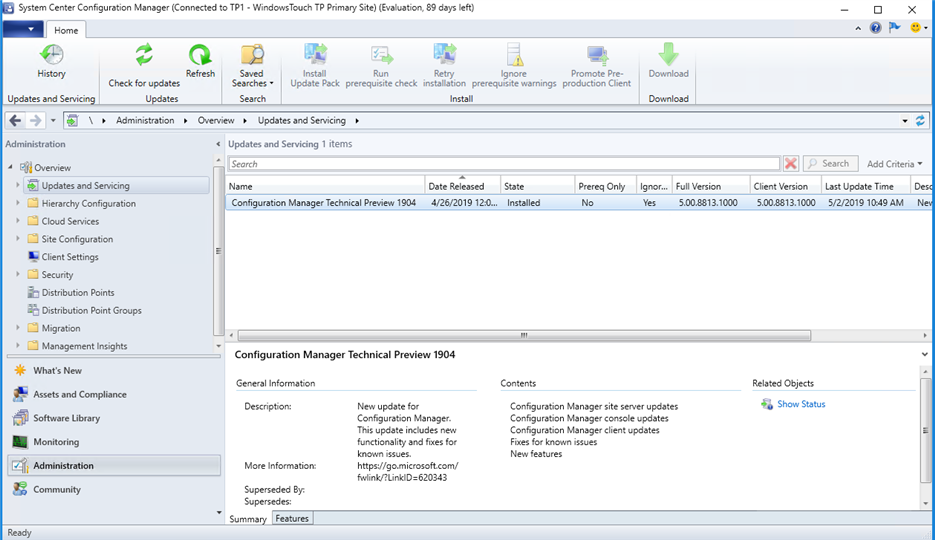 System Center Configuration Manager TP 1904 comprend les nouveautés suivantes :
Administration
Le hub communautaire déjà introduit dans des versions précédentes, se voit enrichi. Il permet maintenant la récupération de rapports. Vous devez pour cela activer l'option Use Configuration Manager-generated certificates for HTTP site systems au niveau du site qui récupère les rapports. Pour plus de détails sur comment contribuer vous pouvez vous référer à la documentation.
Amélioration des processus sous-jacent au Centre Logiciels/Software Center :

Pour les applications en libre-service destinées aux utilisateurs, le Software Center les récupère maintenant à partir du Management Point. Il a ce comportement même si le site a les rôles catalogue d'applications. Cette modification vous permet de supprimer plus facilement ces rôles de site.
Auparavant, le Software Center choisissait le premier Management Point dans la liste des serveurs disponibles. À partir de cette version, il utilise le même Management Point que celui utilisé par le client. Ce changement permet au Software Center de s'aligner avec le client et d'avoir le même comportement de repli.

CMPivot peut être utilisé de manière autonome sans nécessiter la console d'administration. L'outil peut donc être partagé avec d'autres personnes (helpdesk, équipe sécurité, etc.) afin de leur permettre de récupérer des données intéressantes. L'application CMPivot est stockée dans <répertoire d'installation du site>\tools\CMPivot\CMPivot.exe. L'outil doit être copié avec l'ensemble des fichiers (dll, etc.). Il doit être exécuté avec les paramètres suivants :

-sms:Connection="<namespace>" où le namespace correspond au chemin vers le SMSProvider : \\<Nom du provider>\root\sms\site_<siteCode>
-sms:CollectionID="<CollectionID>" où l'identifiant de la collection correspond à la collection que vous ciblez pour exécuter les requêtes
Exemple : CMPivot.exe -SMS:Connection="\\WT-CM-TP1\root\sms\site_TP1" -SMS:CollectionID="SMS00001"
Les utilisateurs doivent bien entendu avoir les permissions adéquates.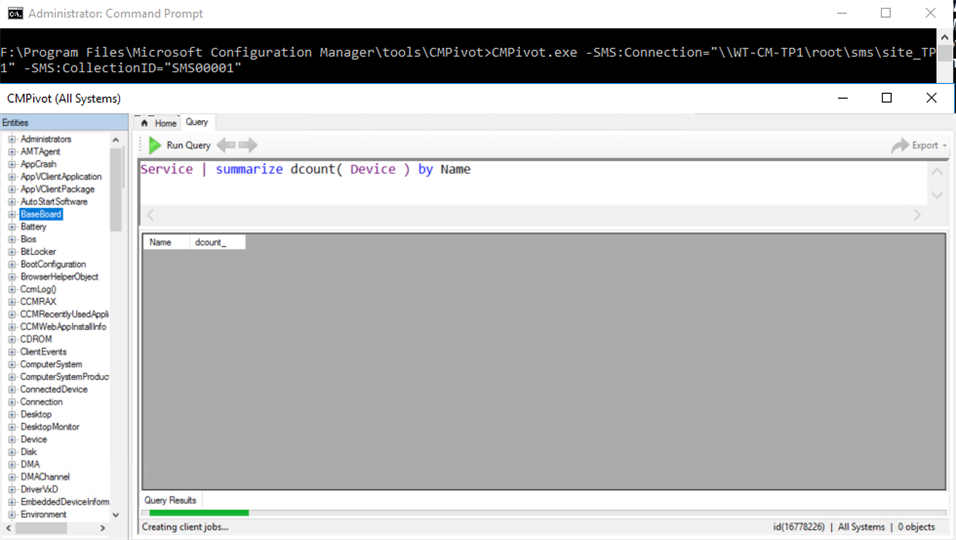 Gestion des mises à jour logicielles
La gestion des mises à niveau de Windows 10 supporte maintenant les mises à jour dynamiques. Ceci permet d'automatiquement installer les packs de langues, les fonctionnalités à la demande, les drivers et les correctifs cumulatifs lors de l'exécution de la mise à niveau du système d'exploitation. Ceci adresse un des principaux points de faiblesse de la fonctionnalité Windows 10 Servicing pour passer d'une version de Windows 10 à l'autre. Vous pouvez activer l'option Enable Dynamic Update for Feature Updates dans les paramétrages du client afin de modifier le fichier setupconfig utilisé lors de l'installation de la mise à niveau pour spécifier l'usage des Dynamic Update.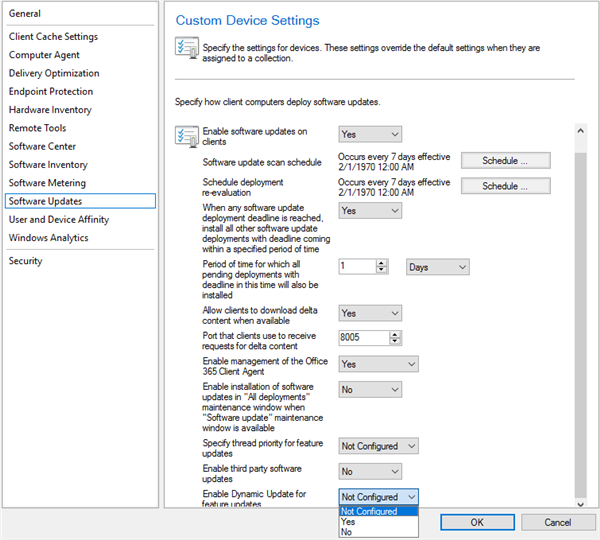 Cet ajout est automatique si vous cochez la case Add non-clustered indexes to the WSUS database au niveau des propriétés du Software Update Point pour chaque site. Ceci est fait automatiquement excepté si le serveur SQL est distant et n'utilise pas de port par défaut.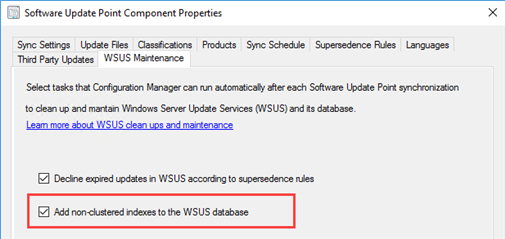 Gestion d'Office 365
Le nouveau tableau de bord d'évaluation à la mise à niveau du client Office 365 ProPlus introduit dans la 1902 est étoffé. Vous pouvez le consulter en naviguant dans Software Library – Office 365 Client Management – Office 365 ProPlus Upgrade Readiness et permet d'obtenir des éléments sur :

L'évaluation des composants additionnels
Les déclarations de support des composants additionnels
Le TOP Des composants additionnels par version
Le nombre de périphériques qui ont des macros
L'évaluation des macros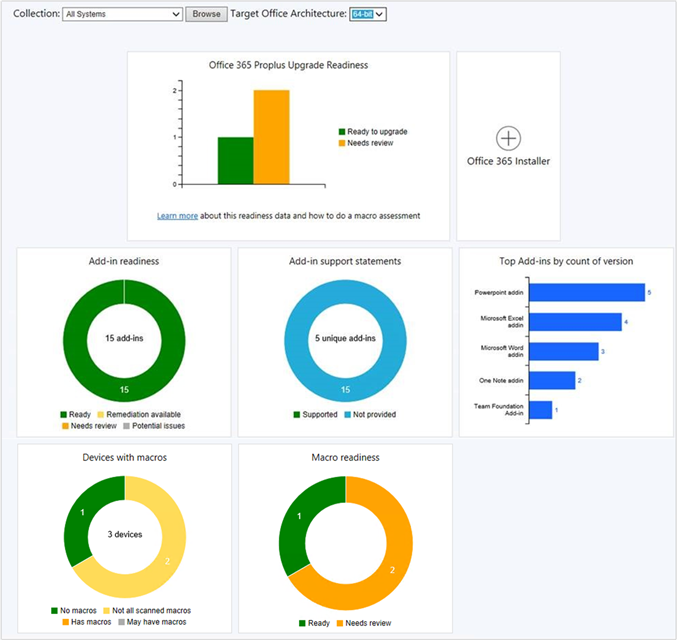 Déploiement de système d'exploitation
Il est maintenant possible de précharger dans le cache les packages de drivers ainsi que les images de système d'exploitation. Ceci s'ajoute aux packages de mise à jour de système d'exploitation afin de mieux contrôler l'usage de la bande passante. Vous devez donc spécifier l'architecture et la langue sur l'onglet Data Source de l'image de système d'exploitation. Pour les packages de drivers, vous devez spécifier le modèle dans l'onglet General. Cette valeur doit être celle spécifiée dans la valeur Name de la classe Win32_ComputerSystemProduct.
Ensuite dans la séquence de tâches, vous pouvez spécifier les conditions sur les étapes Apply OS Image et Apply Drivers Package. Avec des requêtes WMI avec respectivement Select* from Win32_OperatingSystem where locale = '04c0' and OSArchitecture = '64-bit' ou select * from Win32_ComputerSystemProduct where Name = "HP EliteBook 820 G4" par exemple. Il ne vous reste plus que de déployer la séquence de tâches avec l'option Pre-download content for this task sequence.
On retrouve deux nouvelles cmdlets PowerShell permettant d'éditer ou de créer l'étape Run Task Sequence : New-CMTSStepRunTaskSequence et Set-CMTSStepRunTaskSequence
Microsoft ajoute une nouvelle variable de séquence de tâches SMSTSRebootDelayNext qui doit être utilisée en conjonction avec SMSTSRebootDelay. Elle permet de spécifier un timeout différent pour les redémarrages qui suivent le premier redémarrage dont le timeout est défini par SMSTSRebootDelay.
Plus d'informations sur : https://docs.microsoft.com/en-us/sccm/core/get-started/2019/technical-preview-1904