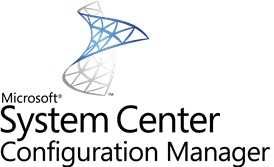 Microsoft vient de mettre à disposition la Technical Preview 1809 (5.0.8717.1000) de System Center Configuration Manager. Pour rappel, ConfigMgr a subi une refonte de sa structure pour permettre des mises à jour aisées de la même façon que l'on peut le voir avec Windows 10. Si vous souhaitez installer cette Technical Preview, vous devez installer la Technical Preview 1804 puis utiliser la fonctionnalité Updates and Servicing (nom de code Easy Setup).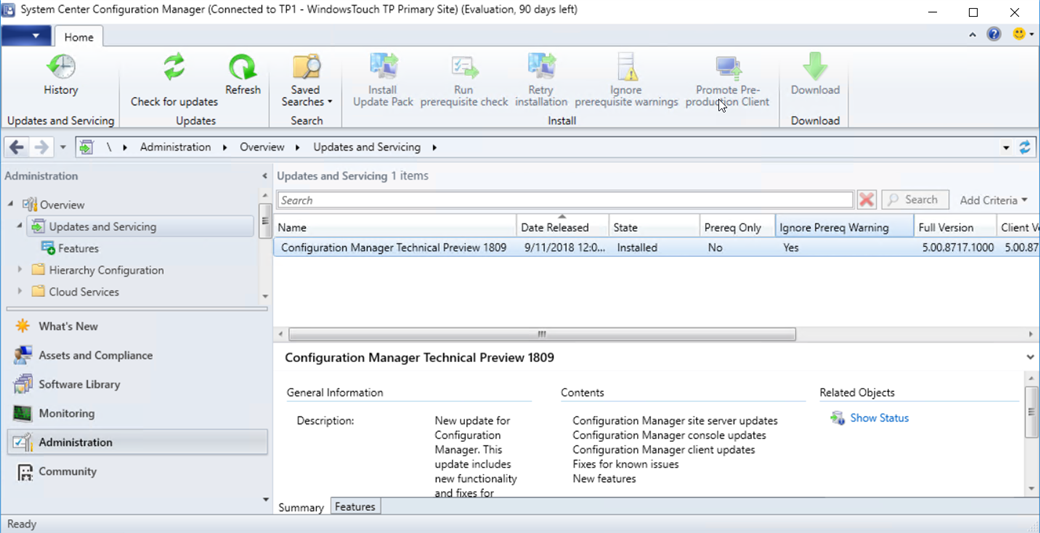 System Center Configuration Manager TP 1809 comprend les nouveautés suivantes :
Inventaire et Reporting
Améliorations de CMPivot. CMPivot est un nouvel utilitaire dans la console qui permet d'accéder en temps réel à l'état des périphériques dans votre environnement. Il lance immédiatement une requête sur tous les périphériques actuellement connectés dans la collection cible et renvoie les résultats. Vous pouvez ensuite filtrer et regrouper ces données dans l'outil :

Fonctions scalaires avec notamment ago(), datetime_diff(), now(), bin()
CMPivot inclut maintenant le support basic d'opérateur de rendu Log Analytics pour inclure des diagrammes à barres, en colonnes, chronologique, circulaire
CMPivot inclut des opérateurs scalaires : ==, !=, like, !like, contains, !contains, startswith, !startswith, endswith, endswith.

Le tableau de bord sur le cycle de vie des produits inclut maintenant System Center 2012 Configuration Manager et plus.
Améliorations du Data Warehouse selon les retours utilisateurs. Vous pouvez maintenant synchroniser plus de tables depuis la base de données de site vers le data warehouse.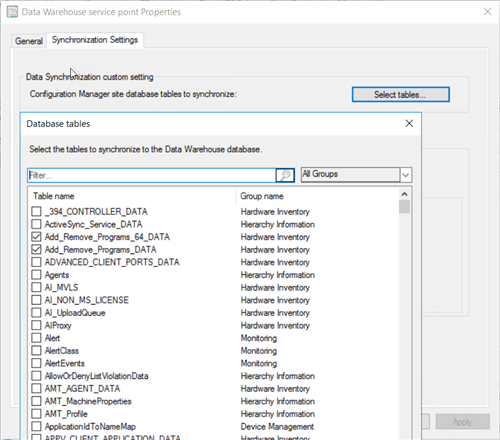 Mise à jour logicielles et conformité
Améliorations des fenêtres de maintenance pour les mises à jour logicielles. Si le périphérique a plus d'une fenêtre de maintenance, le client peut ignorer les fenêtres de maintenant. Par exemple, une fenêtre de maintenance (All deployment) de 2h à 4h et une fenêtre de maintenance (Software Updates) de 4h à 6h ; dans ce cas, seule la seconde fenêtre de maintenance est prise en compte. On retrouve un nouveau paramétrage de client pour gérer ce comportement : Enable installation of updates in "All deployments" maintenance window when "Software update" maintenance window is available.
Plus d'informations sur : https://docs.microsoft.com/en-us/sccm/core/get-started/capabilities-in-technical-preview-1809