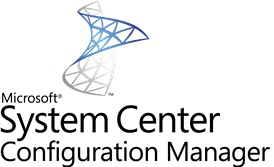 Microsoft vient de mettre à disposition la Technical Preview 1711 (5.0.8582.1000) de System Center Configuration Manager. Pour rappel, ConfigMgr a subi une refonte de sa structure pour permettre des mises à jour aisées de la même façon que l'on peut le voir avec Windows 10. Si vous souhaitez installer cette Technical Preview, vous devez installer la Technical Preview 1703 puis utiliser la fonctionnalité Updates and Servicing (nom de code Easy Setup).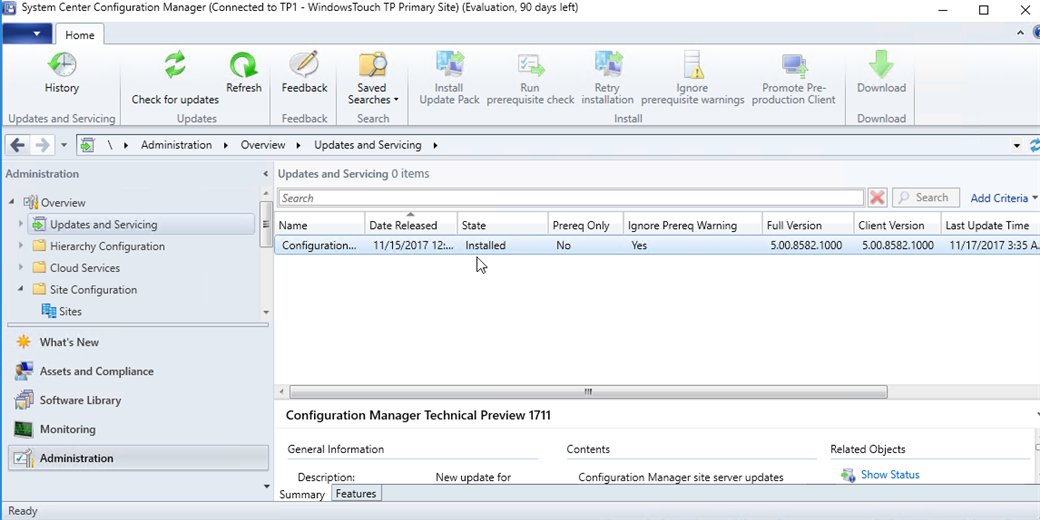 Note : La mise à niveau échoue si vous avez un serveur de site en mode passif. Ceci peut être le cas si vous utilisez la Technical Preview 1706, 1707, 1708, 1709 ou 1710. Vous devez alors désinstaller le serveur de site en mode passif.
System Center Configuration Manager TP 1711 comprend les nouveautés suivantes :
Déploiement de système d'exploitation
Amélioration de l'action Run Task Sequence pour imbriquer des séquences de tâches. Le scénario classique est l'utilisation d'une séquence de tâches pour appliquer les drivers ou installer des applications qui est elle-même appelée par plusieurs séquences de tâches parentes.

Support de tous les scénarios de déploiement de système d'exploitation (Software Center, PXE et media)
Amélioration des opérations dans la console pour permettre la copie, l'import, l'export et des avertissements lors de la suppression.
Support de l'assistant Create Prestage Content.
Intégration avec la vérification des déploiements.
La tâche Run Task Sequence peut être utilisée à travers plusieurs niveaux de séquence de tâches et pas simplement une relation parent-enfant. Cette capacité augmente la complexité de la séquence de tâches. Microsoft valide toujours qu'il n'y ait pas de boucles/références circulaires.
Déploiement d'applications
Il est maintenant possible de déployer une application avec le compte System tout en laissant l'utilisateur interagir avec l'interface graphique. Ceci est très pratique pour toutes les installations qui ne permettent pas une exécution en mode silencieux ou lorsque des configurations spécifiques sont nécessaires. Vous devez pour cela activer l'option au niveau du type de déploiement: Allow users to interact with the program installation. Il est aussi possible d'utiliser ce mécanisme dans des séquences de tâches pour la création d'une image de référence après l'étape Setup Windows and Configuration Manager ou la mise à niveau du système d'exploitation dans le groupe Post-Processing. La séquence de tâches est alors mise en pause jusqu'à ce que l'utilisateur complète les informations.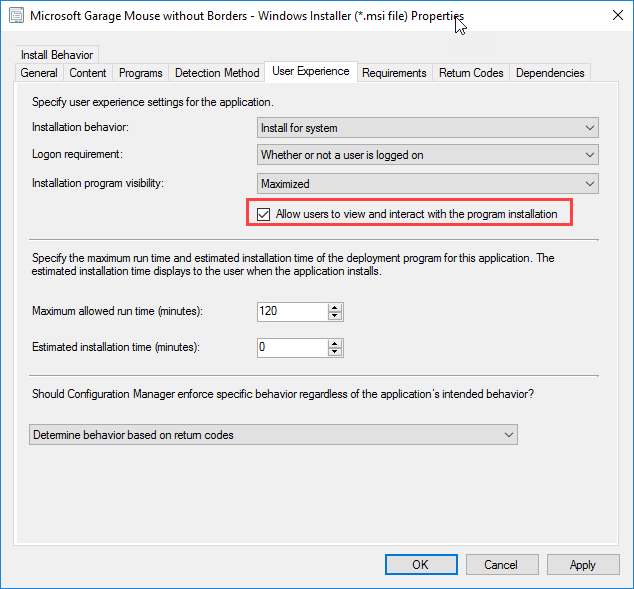 Configuration des paramétrages et conformité
De nouveaux paramétrages de stratégies de conformité pour Windows 10 permettent de :

Require Firewall: valider que le pare-feu est activé et supervise toutes les interfaces réseau.
Require User Account Control : valider que l'UAC est activé.
Defender:

Require Windows Defender Antivirus : Demande l'activation de Windows Defender Antivirus.
Windows Defender Antivirus version: spécifie la version minimum des définitions antivirales installées sur le périphérique
Require current Windows Defender Antivirus signature : vérifie que les périphériques ont des mises à jour de définition Windows Defender Antivirus à jour.
Require Real-Time Protection : Demande que le périphérique ait la protection en temps réel Windows Defender Antivirus.

Valid operating system builds : spécifie les prérequis de version de Windows minimum et maximum.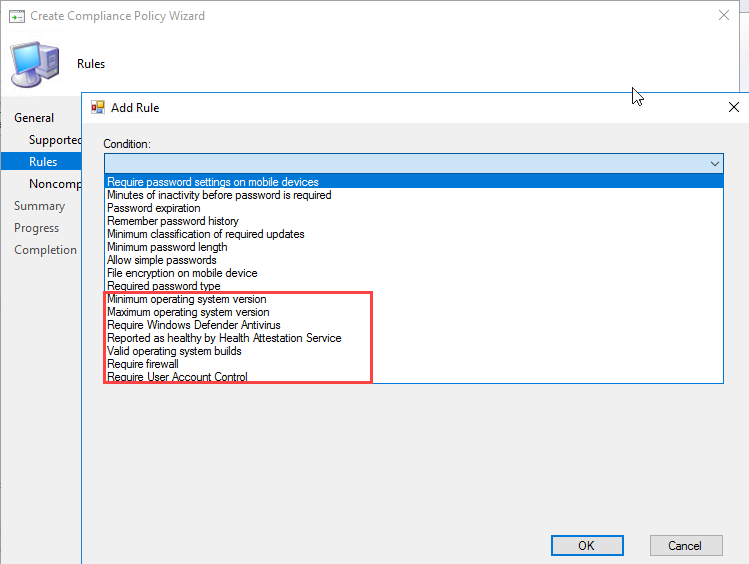 Plus d'informations sur : https://docs.microsoft.com/en-us/sccm/core/get-started/capabilities-in-technical-preview-1711