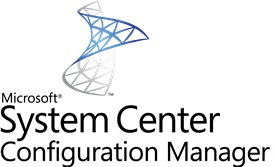 Microsoft vient de mettre à disposition la Technical Preview 1701 (5.0.8482.1000) de System Center Configuration Manager. ConfigMgr a subi une refonte de sa structure pour permettre des mises à jour aisées de la même façon que l'on peut le voir avec Windows 10. Si vous souhaitez installer cette Technical Preview, vous devez installer la Technical Preview 5 (équivalent de la TP1603) puis utiliser la fonctionnalité Updates and Servicing (nom de code Easy Setup).
System Center Configuration Manager TP 1701 comprend les nouveautés suivantes :
Amélioration des groupes de limites (Boundary Groups) pour permettre d'ajouter les Software Update Points au principe d'association afin de gérer le basculement automatique en fonction d'un temps donné comme c'est déjà le cas avec les points de distribution.
Un outil de nettoyage de la librairie de contenu permet de supprimer le contenu orphelin qui n'est plus associé à aucun package ou application.
Support de la fonctionnalité Express Installation Files de WSUS pour les correctifs cumulatifs Windows 10. Cette fonctionnalité requiert le correctif cumulatif de Janvier pour Windows 10 1607 afin de mettre à jour l'agent Windows Update.
Il est maintenant possible d'héberger des packages de mises à jour logicielles sur les Cloud Distribution Points. Cet ajout permet de couvrir le scénario de déploiement de mises à jour tierces (via SCUP).
Amélioration du connecteur OMS pour la prise ne charge de Microsoft Azure Government.
Les données d'inventaire permettent d'inventorier si le périphérique fonctionne en mode UEFI.
Il est maintenant possible de configurer les Management Points pour valider l'état de santé des clients Windows 10 qui utilisent le service Device Health Attestation. Les Management Points font ainsi l'intermédiaire et ne demandent pas aux clients de dialoguer avec le service Cloud.
Déplacement du nœud Updates and Servicing à la racine de la partie Administration.
Les versions d'iOS et Android ne sont plus sélectionnable lors de la création de stratégies et de profils. Il reste tout de même possible d'éditer les versions via les propriétés.
En outre des améliorations au déploiement de système d'exploitation ont été fait :

Support de plus d'applications (jusqu'à 99 contre 9 auparavant) par la tâche Install Application
L'ajout d'applications à la tâche Install Application permet la multi sélection.
Capacité de définir une date de démarrage et d'expiration d'un média autonome
Support de contenu additionnel dans le média autonome
Configuration d'un timeout sur la tâche Auto Apply Driver
L'identifiant du package est affiché dans la tâche.
L'ADK Windows 10 est maintenant traqué par numéro de version
Le chemin des sources des images de démarrage par défaut ne peut plus être changé.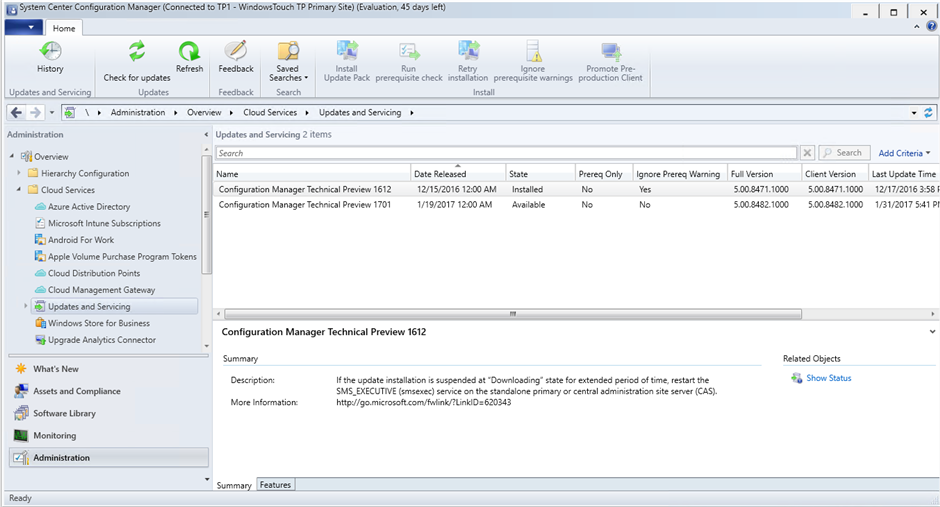 Plus d'informations sur : https://docs.microsoft.com/en-us/sccm/core/get-started/capabilities-in-technical-preview-1701