J'en parlais dans l'article d'avant, les rapports par défaut du contrôle d'usage logiciel ou Software Metering de System Center Configuration Manager sont discutables. J'ai donc créé deux rapports répondant aux besoins suivants :
Prendre en compte l'heure locale du client et non plus le temps UTC afin d'afficher les données sur des graphes journaliers
Agréger les données d'exécutions distantes pour ne plus compter une exécution par serveur Remote Desktop/Terminal Services
Use of a program for a period : Affiche à partir des données brutes :
Une courbe d'utilisation moyenne et maximale de l'application par utilisateur distinct
La liste des utilisateurs avec le temps passé et le nombre d'exécutions locales, totales et distantes
Le nombre d'utilisateurs distinct ayant utilisé l'application sur l'intervalle
Le pic d'utilisateur sur l'intervalle
Note : Les datasets de ce rapport créent des tables temporaires pour agréger les données. Ces dernières sont ensuite supprimées.
Use of a program on a monthly basis : Affiche à partir des données agrégées mensuelles :
Le nombre d'utilisateurs locaux, distants et totaux (uniques)
Le top 10 des utilisateurs sur la période donnée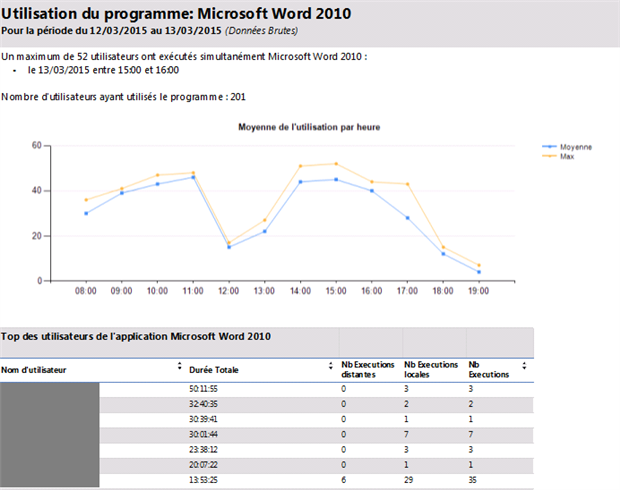 Ces rapports sont à utiliser à vos propres risques et ont été testés dans un environnement restreint.
Télécharger les rapports sur : jsduchene/Reports (github.com)