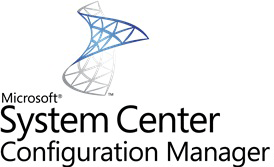 L'équipe ConfigMgr a publié un correctif à destination des personnes ayant installé System Center Configuration Manager 1610 avec le script d'activation de la version Fast Ring (première vague). Cette dernière était proposée avant le 1er décembre. La mise à jour ne s'applique lorsque vous avez téléchargé la version 1610 après cette date ou avant le 1er décembre. Vous êtes en version Fast Ring si le GUID du package dans le nœud Updates and Servicing est le suivant : C43A89E4-B642-4FC8-ABF0-255BF5D88D82.
Le correctif s'applique au serveur de site et au client.
Parmi les corrections, on retrouve :
Après la mise à niveau à partir de ConfigMgr 1606 vers ConfigMgr 1610, le Software Center ne s'ouvre pas sur les clients. Le problème survient sur une application est déployée sur le client 1606 après que le site ait été mis à jour vers la version 1610. Vous recevez alors le message suivant : Software Center cannot be loaded. There is a problem loading the required components for Software Center.
Le processus SMS Host Agent (ccmexec.exe) peut prendre 100% du temps CPU disponible. Le problème survient si le client est en cours de téléchargement du contenu et perd la connectivité au point de distribution. Le composant Data Transfer Service essaye à nouveau la connexion rapidement pour les fonctionnalités qui peuvent être retentées. Ceci engendre une augmentation de l'usage CPU tant que les jobs du Content Transfer Manager ne sont pas terminés.
Amélioration du support pour gérer les multiples demandes aux Background Intelligent Transfer Service (BITS) pour les fichiers de mises à jour Windows Epress.
Quand vous cliquez sur la notification générée par Windows Hello for Business, le Software Center est ouvert en lieu et place de l'application Windows Hello for Business.
Le service SMS Executive peut terminer de manière inopinée quand la Cloud Management Gateway et le Network Device Enrollment Service sont co-hébergés sur le serveur de site.
Le processus de collection de données qui est utilisé pour migrer d'une version de site plus ancienne que ConfigMgr 1606 échoue quand vous requêtez les données des Boundary Groups. Le fichier Migmctrl.log contient des erreurs System.Data.SqlClient.SqlException faisant référence aux Boundary Groups.
La suppression manuelle ou automatique de données de découverte utilisateur échoue sur le CAS. Le problème survient car une table de site en lecture seule est référencée dans le déclencheur de suppression.
La tâche Setup Windows and ConfigMgr n'installe pas le client ConfigMgr sur les machines Windows 7.
Les déploiements de séquence de tâches peuvent échouer à cause de stratégies manquantes. Ceci survient pour les séquences de tâches qui ont été créées avant la mise à niveau vers ConfigMgr 1610.
Les séquences de tâches qui sont configurées pour utiliser l'option Access content directly from the distribution point se bloquent lorsqu'elles essayent de récupérer le contenu.
Après la mise à niveau vers ConfigMgr 1610, vous recevez des messages d'erreur lorsque vous tentez de déployer des séquences de tâches :
The selected task sequence uses an invalid package or application reference. Use task sequence editor to correct the error or select a different task sequence.
Il survient de manière aléatoire pour des séquences de tâches qui référencent des packages ou des applications.
Le nœud Updates and Servicing est manquant après la restauration du site. Ce problème survient quand les options Reinstall the site server et Use a site database that has been manually recovered sont sélectionnées.
Pour installer la mise à jour, rendez-vous dans la partie Updates and Servicing de la console d'administration :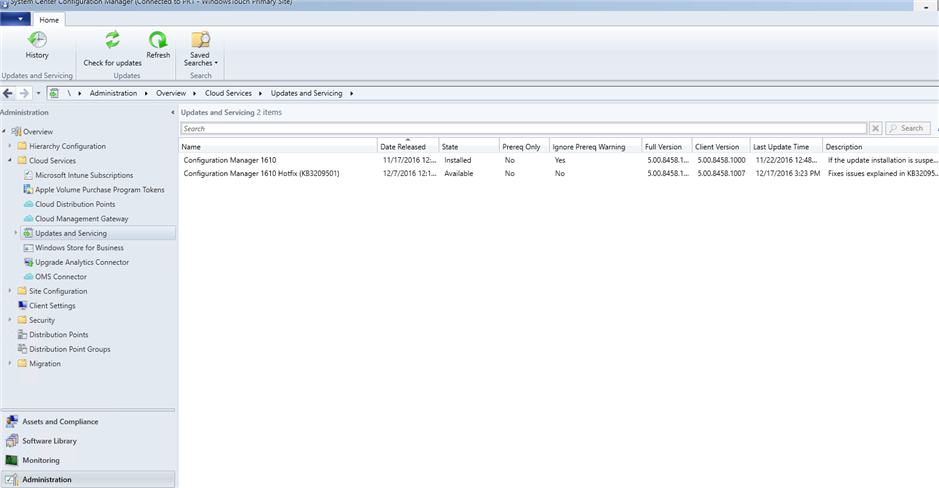 Plus d'informations sur la KB3209501 Update 1 for System Center Configuration Manager version 1610, early wave