Microsoft vient de mettre à disposition la Technical Preview 2208 (5.0.9089.1000) de Microsoft Endpoint Configuration Manager. Pour rappel, Microsoft a annoncé le renommage de System Center Configuration Manager pour faire partie d'une même suite avec Microsoft Intune, Desktop Analytics, Autopilot, etc. sous le nom Microsoft Endpoint Manager. L'outil ne fait donc plus parti de la gamme System Center. Si vous souhaitez installer cette Technical Preview, vous devez installer la Technical Preview 2203 puis utiliser la fonctionnalité Updates and Servicing (nom de code Easy Setup).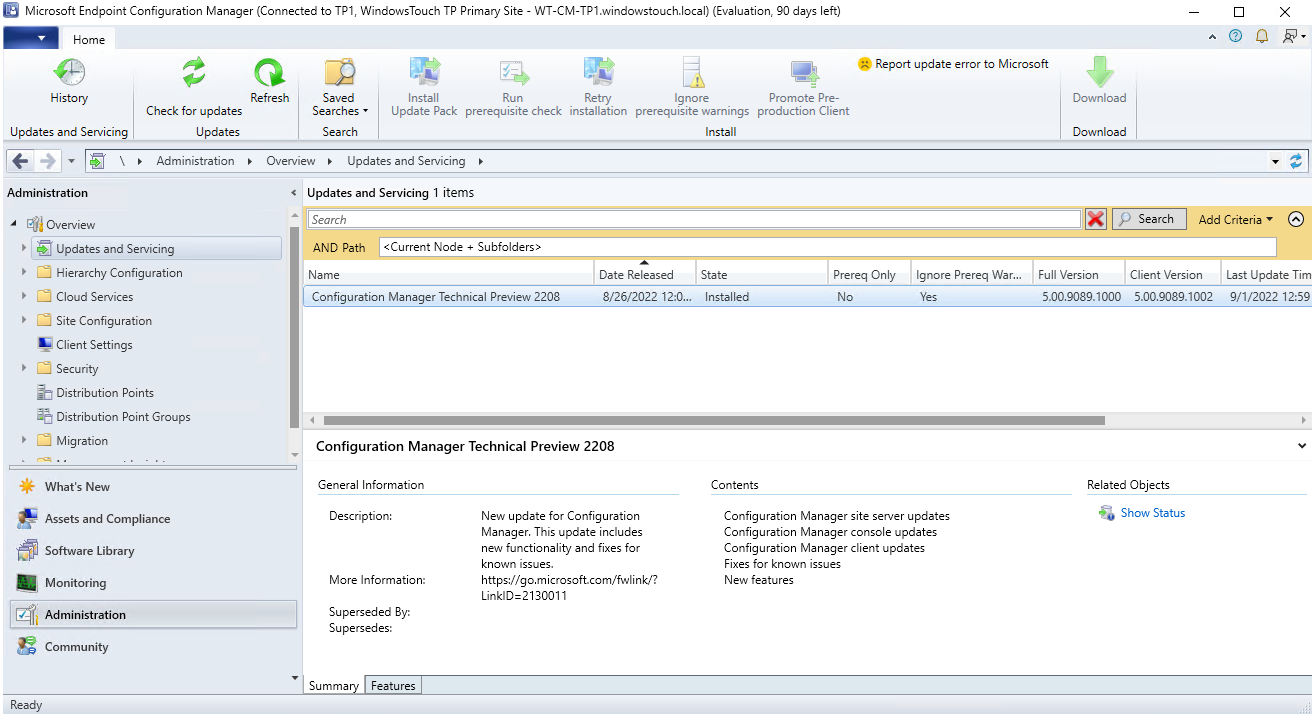 Microsoft Endpoint Configuration Manager TP 2208 comprend les nouveautés suivantes :
Administration
Vous pouvez désormais utiliser le contrôle d'accès basé sur les rôles (RBAC) d'Intune lorsque vous interagissez avec les périphériques tenant-attach à partir du centre d'administration de Microsoft Endpoint Manager. Par exemple, lorsque vous utilisez Intune comme autorité de contrôle d'accès basé sur les rôles, un utilisateur ayant le rôle Help Desk Operator d'Intune n'a pas besoin d'un rôle de sécurité attribué ou d'autorisations supplémentaires de Configuration Manager.
Dans cette version, Microsoft a étendu le thème sombre (Dark Mode) à davantage de tableaux de bord, qui ne s'affichaient pas correctement auparavant. Par exemple, le tableau de bord des mises à jour O365, le tableau de bord PCM et le tableau de bord de l'attestation de santé s'affichent désormais conformément au thème sombre, lorsqu'il est activé.
Déploiement de système d'exploitation
Si le fichier osdinjection.xml est directement modifié, il n'est pas correctement préservé lors de la mise à jour vers une nouvelle version de Configuration Manager. Les exemples de modifications incluent l'ajout de la prise en charge d'un plus grand nombre de binaires ou d'un fournisseur de contenu alternatif (ACP). Lorsque ce problème se produit, les séquences de tâches de déploiement du système d'exploitation ne parviennent pas à résoudre les dépendances requises. Le fichier smsts.log contient l'erreur suivante : Failed to load TSCore.dll Code (0x8007007E).
Plus d'informations sur : Technical preview 2208 - Configuration Manager | Microsoft Docs