Microsoft vient d'annoncer la mise à disposition d'un nouvel ensemble de fonctionnalités pour Microsoft Intune.
Note : Microsoft a communiqué sur le fait qu'à partir de Janvier 2022, l'API ServiceEndpoints demandera des permissions spécifiques.
Les fonctionnalités suivantes sont ajoutées :
Enregistrement des périphériques
[Android] Disponibilité Générale du mode d'enregistrement des périphériques appartenant à l'entreprise avec un profil professionnel (COPE).
[Android] L'accès au navigateur est automatiquement activé dans les enregistrements d'entreprise Android ceci inclut :

Android Enterprise dedicated enregistré avec Azure AD Shared device mode
Android Enterprise fully managed
Android Enterprise corporate-owned work profile
Gestion du périphérique
[Général] Il est maintenant possible de faire l'offboarding de la fonctionnalité attachement du tenant (Tenant Attach). Ceci permet de couvrir les rares cas où vous pouvez avoir besoin de retirer une hiérarchie. Par exemple, vous pouvez avoir besoin de supprimer une hiérarchie à la suite d'un scénario de reprise après sinistre dans lequel l'environnement sur site a été supprimé. Pour retirer votre hiérarchie Configuration Manager du centre d'administration de Microsoft Endpoint Manager, sélectionnez Tenant administration, Connectors and tokens puis Microsoft Endpoint Configuration Manager. Choisissez le nom du site que vous souhaitez supprimer, puis sélectionnez Delete.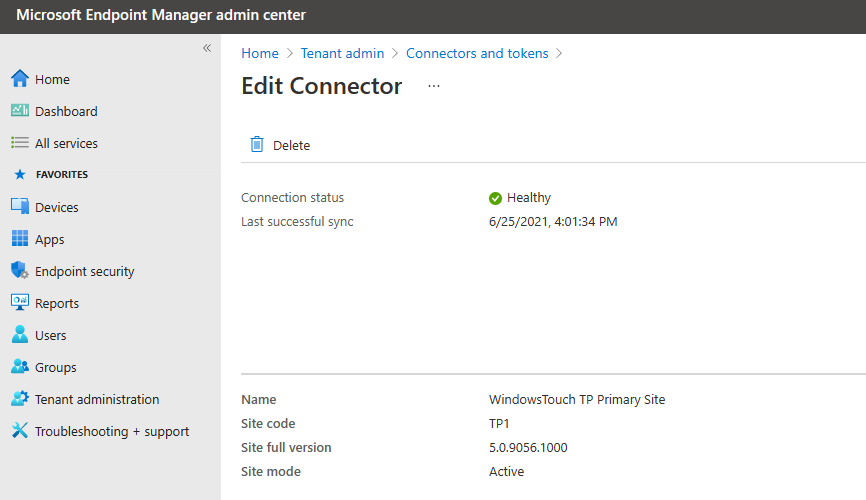 [Général] Il est maintenant possible d'utiliser les filtres sur les profils de configuration de catalogue de paramétrages, sur les paramétrages de conformité de score de risque et de menaces.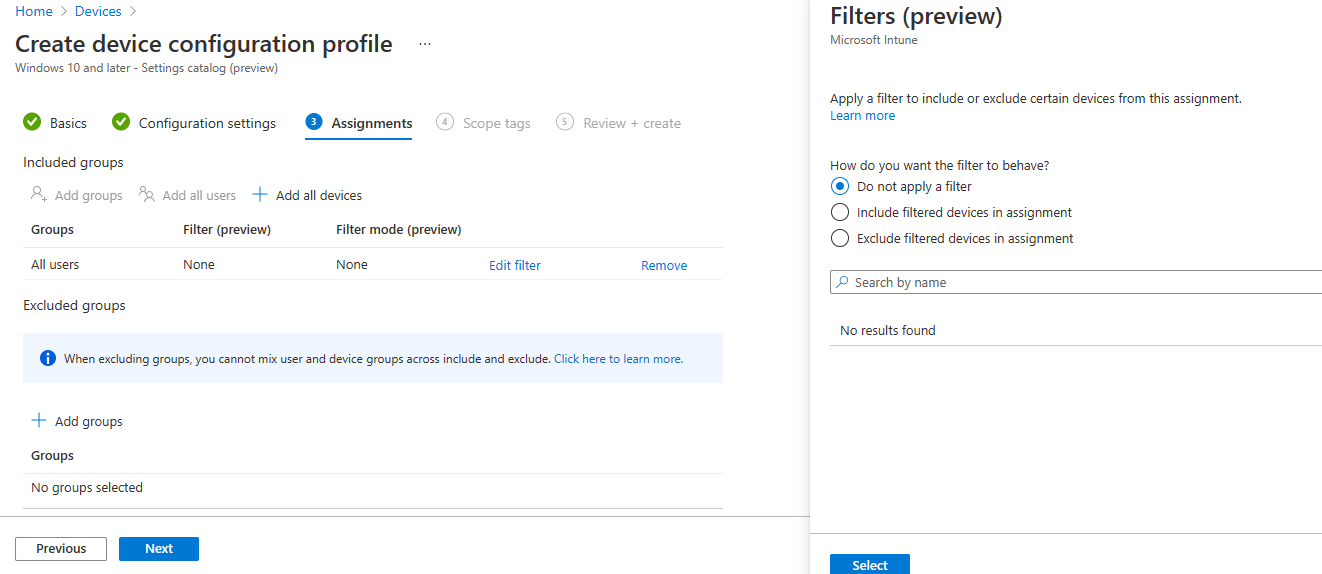 [Android] Vous pouvez créer un filtre qui utilise le nom du profil d'enregistrement pour des périphériques Android Enterprise.
[iOS/iPadOS] Une nouvelle action à distance (Update cellular data plan) permet d'activer le plan d'abonnement eSIM.
Configuration du périphérique
[iOS/iPadOS] Il est maintenant possible de gérer les cookies et les paramétrages de pistage à travers les sites en créant une stratégie de restriction dans : Devices > Configuration profiles > Create profile > iOS/iPadOS comme plateforme > Device restrictions pour profil > Built-in Apps.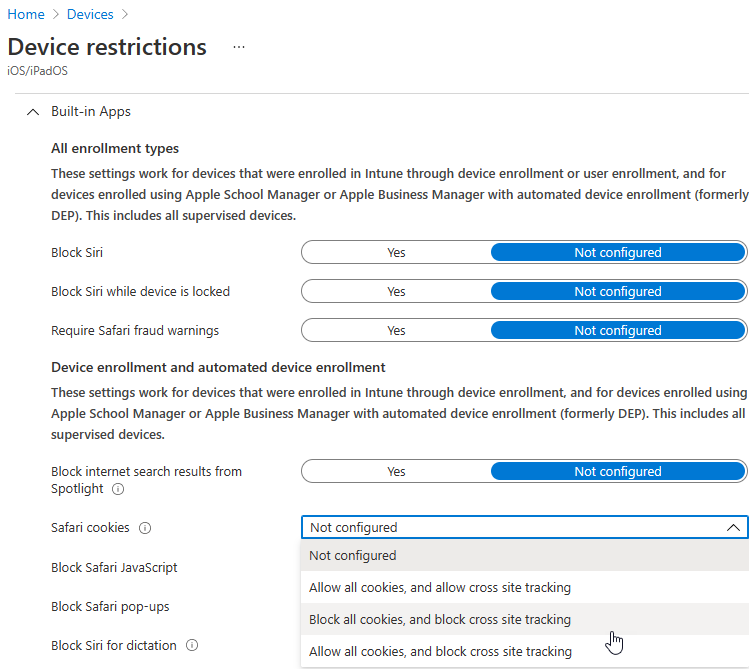 Gestion des applications
[Général] On retrouve diverses améliorations pour voir l'état d'applications gérées. Intune n'affiche désormais que les applications spécifiques à la plate-forme du périphérique que vous consultez. Microsoft a également introduit des améliorations de performance et un support supplémentaire pour les plateformes Android et Windows.
[Général] On retrouve de nouvelles applications protégées :

Secrets Confidential File Viewer by Hitachi Solutions, Ltd.
AventX Mobile Work Orders by STR Software
Slack for Intune by Slack Technologies, Inc.
Dynamics 365 Sales by Microsoft
Leap Work for Intune by LeapXpert Limited
iManage Work 10 For Intune by iManage, LLC
Microsoft Whiteboard by Microsoft (Android version)

[Android] L'application Android Company Portal et l'application Android Intune prennent désormais en charge le portugais du Portugal (code langue pt-PT). Intune prend déjà en charge le portugais du Brésil.
[iOS/iPadOS] Lorsque vous créez un nouveau déploiement pour une application Apple Volume Purchase Program (VPP), le type de licence par défaut est désormais "device". Les déploiements existants restent inchangés.
Sécurité du périphérique
[Android] Disponibilité Générale de la fonctionnalité Microsoft Tunnel de l'application Microsoft Defender for Endpoint sur Android :

Vous n'avez plus besoin de vous connecter pour utiliser Defender of Endpoint comme application tunnel sur Android.
L'application autonome pour Android est désormais obsolète et sera supprimée du store d'applications Google lorsque l'assistance prendra fin le 14 août 2021. Vous devez planifier de télécharger et utiliser la nouvelle version d'application Microsoft Defender for Endpoint comme application Microsoft Tunnel.
Supervision et Dépannage
[Général] Une option d'export est disponible pour les remédiations proactives afin de vous aider à identifier et analyser les retours des scripts.
[Général] Mise à jour du rapport Certificate pour fournir des capacités de recherches, de pagination, d'ordonnancement et d'export. Vous pouvez y accéder en naviguant dans : Devices > Monitor > Certificates.
Plus d'informations sur : What's new in Microsoft Intune - Azure | Microsoft Docs