Aujourd'hui, je vous partage une astuce qui facilite grandement la vie des administrateurs informatiques afin d'enregistrer des périphériques Android dans les modes Fully Managed (COBO) et Corporate-owned devices with work profile (COPE) avec le QR Code. Il est possible d'éditer ce QR Code avec un service afin d'ajouter des éléments de configuration.
Pour ce faire :
Ouvrez le centre d'administration Microsoft Endpoint Manager et naviguez dans Devices – Enroll Devices – Android enrollment puis choisissez le profil d'enregistrement COBO ou COPE.
Récupérez le QR Code en enregistrant l'image.
Connectez-vous au site : Android Enterprise QR Code Generator (datalogic.github.io)
Sélectionnez l'option Import et chargez l'image du QR Code précédemment extraite.
Vous retrouvez ensuite les différentes configurations :
Component name of admin receiver est spécifique à l'enregistrement
Download and enrollment permet de rediriger vers l'application Microsoft Intune et le numéro du Token
Configure Wi-Fi Network vous permet de configurer un réseau Wi-Fi qui sera utilisée lors de cette phase d'enregistrement. Cette configuration est très pratique car elle permet d'éviter de le faire manuellement. Vous pouvez renseigner le SSID, le type de sécurité, le mot de passe, et la configuration proxy.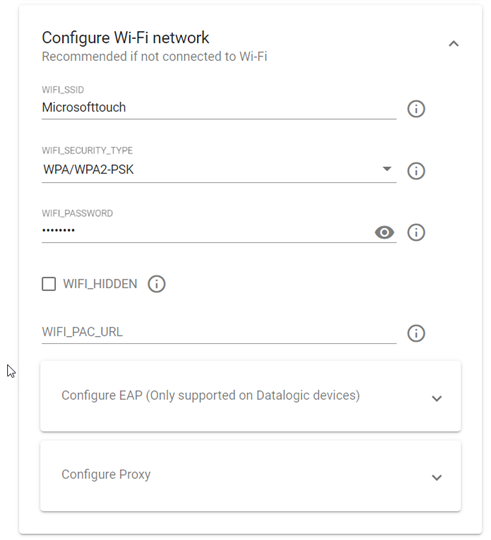 Additional Android Enterprise properties permet de :
Passer le chiffrement du périphérique
Laisser toutes les applications système activées
Configurer la langue et le pays
La date et l'heure du périphérique (la valeur est statique ; il est donc préférable d'éviter la configuration)
Le fuseau horaire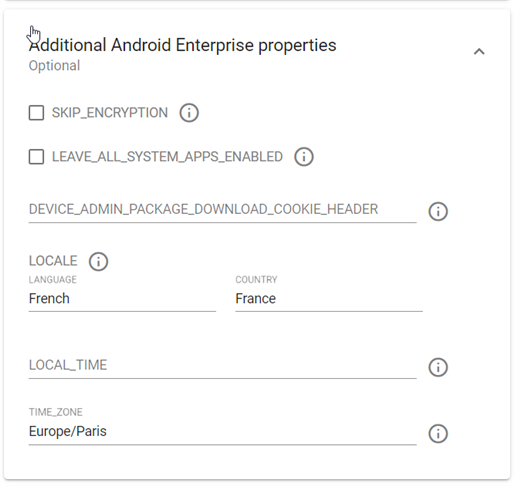 Datalogic properties permet de spécifier des données spécifiques à DataLogic
Une fois terminé, vous pouvez cliquer sur Generate Code afin de récupérer le QR Code qui peut être utilisé sur vos périphériques.