Microsoft est revenu sur le support d'iOS 13 par Microsoft Intune et Microsoft va vite.
Microsoft a revu notamment Microsoft Intune pour les éléments suivants :
Device features, device restrictions, et extension profiles pour les paramètres iOS et macOS sont affichés par type d'enregistrement. On retrouve la séparation suivante :
iOS

User enrollment
Device enrollment
Automated device enrollment (supervised)
All enrollment types

macOS

User approved
Device enrollment
Automated device enrollment
All enrollment types

iOS 13 a engendre le passage de certains paramètres pour les rendre disponibles uniquement dans un mode supervisé. Microsoft a reflété ce changement dans la console

App Store, Doc Viewing, Gaming

App store (supervised only)
Explicit iTunes, music, podcast, or news content (supervised only)
Adding Game Center friends (supervised only)
Multiplayer gaming (supervised only)

Built-in Apps

Camera (supervised only)
FaceTime (supervised only)
Safari (supervised only)
Autofill (supervised only)

Cloud and Storage

Backup to iCloud (supervised only)
Block iCloud Document sync (supervised only)
Block iCloud Keychain sync (supervised only)
Parmi les nouveautés introduites par iOS 13, on retrouve déjà :
La Preview du nouveau mode d'enregistrement BYOD (User Enrollment) avec notamment les types d'enregistrement qui peuvent être associés aux utilisateurs ou périphériques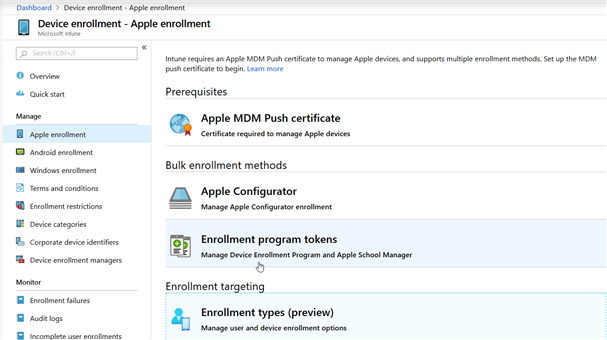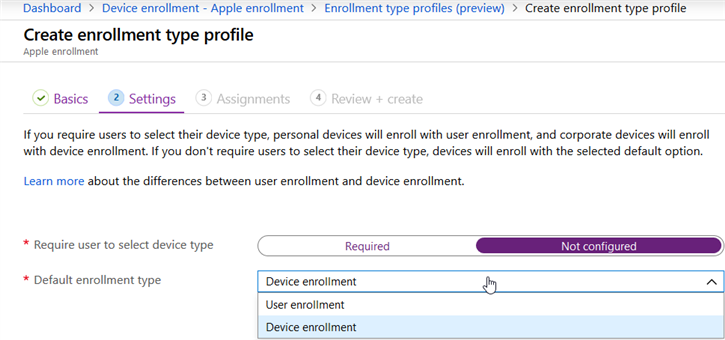 Le support de l'expérience Single Sign-On avec les profils de configuration pour que les utilisateurs puissent accéder à une suite complète d'applications et de sites Web après avoir entré leur nom d'utilisateur et mot de passe une seule fois. Il est possible de configurer une extension d'application SSO générique ou la nouvelle extension d'application Kerberos intégrée d'Apple, qui permet la gestion des mots de passe et la synchronisation locale avec Active Directory. Microsoft travaille sur le support d'une extension d'application pour Azure AD qui permettra aux utilisateurs d'accéder à toutes les applications Microsoft avec une seule ouverture de session.
De nouveaux paramètres de commande vocale pour les périphériques iOS 13.x ou ultérieurs supervisés fonctionnant en mode kiosque.
Microsoft permet la personnalisations des nouveaux écrans introduit dans iOS 13 concernant la phase de configuration du téléphone pour les périphériques issus d'Apple DEP.
Outre ces fonctionnalités déjà proposées, Microsoft travaille sur :
L'ajout du Dark Mode (mode sombre) au portail d'entreprise (courant octobre).
Le support natif de 3 nouvelles restrictions applicables à iOS/iPadOS 13 (courant octobre)

L'accès aux partages réseaux dans l'application Fichiers
L'accès aux lecteurs USB dans l'application Fichiers
Wi-Fi toujours activé

Le support d'ici la fin d'année de l'authentification moderne dans l'assistant de configuration (Setup Assistant) pour les périphériques DEP.