Microsoft vient d'annoncer la mise à disposition d'un nouvel ensemble de fonctionnalités pour Microsoft Intune.
Les fonctionnalités suivantes sont ajoutées :
Enregistrement
Amélioration à la vue Device Overview qui affiche maintenant maintenant les périphériques enregistrés mais exclue ceux gérés par Exchange ActiveSync. Ces périphériques n'ont pas les mêmes options de gestion que ceux enregistrés.
Gestion des périphériques
Amélioration de l'inventaire collecté par Intune avec les informations suivantes :

Pour Android, vous pouvez ajouter une colonne à l'inventaire de périphérique afin de montrer le dernier niveau de patch (Security patch level) de chaque périphérique.
Vous pouvez maintenant filtrer les périphériques par la date d'enregistrement (exemple les périphériques enregistrés après une certaine date).
Amélioration du filtre Last Check-in Date.
Dans la liste de périphérique, vous pouvez afficher le numéro de téléphone des périphériques d'entreprise. Vous pouvez aussi filtrer sur cet attribut.

Support de l'accès conditionnel pour les périphériques Mac. Vous pouvez maintenant configurer des stratégies d'accès conditionnel demandant à ce que le Mac soit enregistré dans Microsoft Intune et conforme aux stratégies. L'utilisateur doit pour cela, télécharger l'application portail d'entreprise pour macOS et enregistrer leur Mac dans Intune. Intune évalue alors la conformité comme le PIN, le chiffrement, la version du système et l'intégrité du système. Ce support est apporté pour macOS 10.11+, Safari et les applications Office 2016 pour Mac en version

Outlook v15.34 and later
Word v15.34 and later
Excel v15.34 and later
PowerPoint v15.34 and later
OneNote v15.34 and later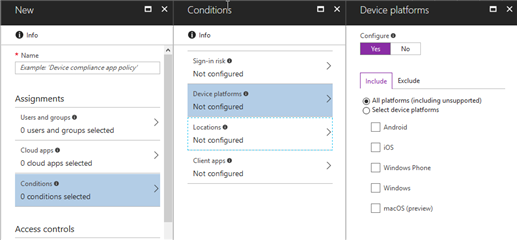 Nouveaux paramétrages de restriction Windows 10 dans les catégories :

Windows Defender SmartScreen
App store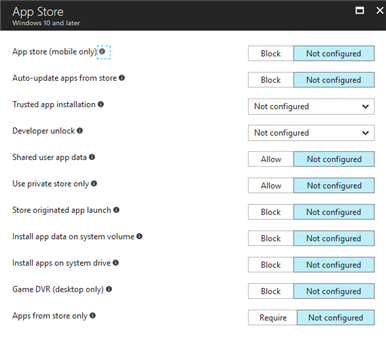 Mise à jour du profil de paramétrages BitLocker dans Windows 10 endpoint protection device:

Quand vous sélectionnez Block sur le paramétrage BitLocker with non-compatible TPM chip, ceci engendrait en réalité l'autorisation de BitLocker.
Le paramétrage Certificate-based data recovery agent permet de bloquer explicitement certificate-based data recovery agent. Par défaut, l'agent est autorisé.
Sous BitLocker fixed data-drive settings pour l'agent data recovery, vous pouvez maintenant explicitement bloquer l'agent de restauration de données.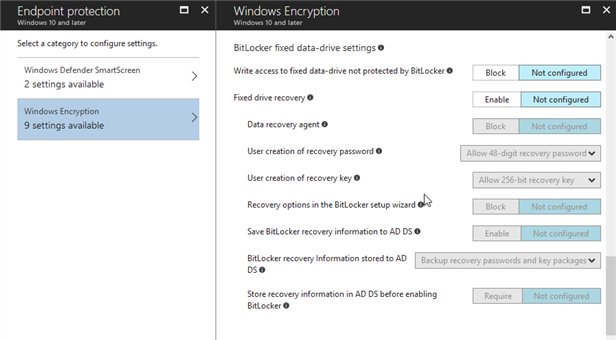 Gestion des applications
Une nouvelle expérience de connexion pour le portail d'entreprise Android. Celle-ci permet de voir les applications, gérer les périphériques et voir les informations du service informatique sans avoir à enregistrer le périphérique Android dans la solution d'administration. Si un utilisateur a déjà une application protégée par les stratégies de protection des applications et qu'il lance le portail d'entreprise Android, il n'est pas non plus incité à enregistré son périphérique.
Support des identités multiples (personnels et professionnels) pour OneNote pour iOS.
En outre, on retrouve les changements suivants :
Plus d'informations sur : https://docs.microsoft.com/en-us/intune/whats-new