Windows Server 2012 propose l'installation du .NET Framework 3.5 et du .NET Framework 4.0. Les deux versions peuvent être requises par certains produits (comme System Center 2012 Configuration Manager). Néanmoins si vous ne faites pas attention, l'installation du .NET Framework 3.5 peut échouer avec le code d'erreur : 0x800F081F. Ceci survient car les sources d'installation ne sont plus incluses sur la partie système comme auparavant. Lorsque vous déroulez l'assistant Add Roles and Features, l'écran de confirmation affiche un avertissement vous spécifiant sur les fichiers d'installation sont manquants. Cet avertissement ne vous empêche pas de lancer l'installation qui échouera si vous n'avez pas spécifié une source alternative. Pour cela, vous devez cliquer sur Specify and alternate source path.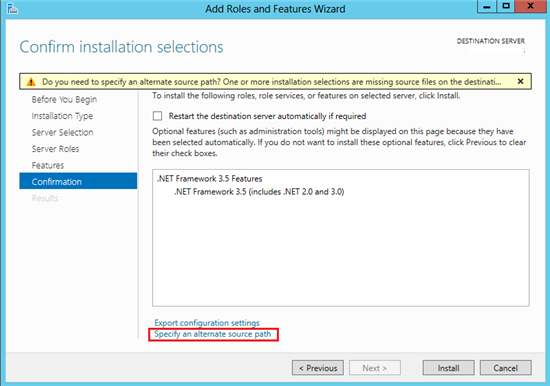 Une fenêtre s'ouvre et vous propose de renseigner un chemin. Vous pouvez utiliser :
le média d'installation : Les sources du .NET Framework 3.5 sont localisées dans le dossier Sources\SxS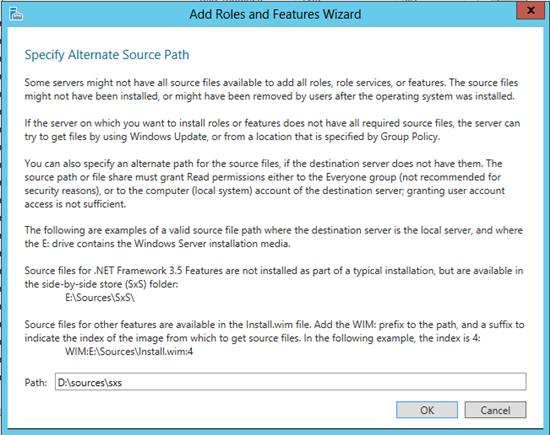 Vous pouvez ensuite poursuivre l'installation sans expérimenter le problème.